I am a true fan of Thailand and I had a chance to visit and live here a few times in my life. Thailand is a country that is lucky to have warm weather, gorgeous landscape with mountains and beaches, friendly and kind people and thousands of things to do.
Although Thai people are very understanding, kind and used to tourists, it is a country that has its own unique culture and traditions, and our responsibility as travellers is not only to be respectful of other cultures but also to protect ourselves and have a smooth and safe journey.
So here's all the tips for your trip to Koh Samui:
What You need to know before you go to Koh Samui
SUNSCREEN. When visiting Koh Samui don't forget to take a high SPF sunscreen. Sun in Thailand even if not visible it stings pretty hard. Sunscreens here cost a fortune, so better take bring them from your country.
CONVENIENCE STORES. There are many 24-hour working convenience stores in Koh Samui so you will find everything you might need for your holiday here – from face masks to underwear. Do visit them as the prices are better than in some markets and you will find many little things to bring as souvenirs.
LANGUAGE. A lot of local people speak English, or at least they try. I am sure that with the help of Google translate, you will be fine.
HYGIENE. The main thing that applies to Koh Samui, and all of Thailand, is not to drink tap water. Bottled water is cheap and easily accessible in every corner shop or cafe. I think the food hygiene is good, I ate plenty of street food there and had no problems.
CASH OR CARD? There are a few places that accept cards, like upscale bars and restaurants, but most of the places are still running on cash. Especially the little clothing or souvenir shops or street food stalls.
ATM'S. There are plenty of ATMs around the island. If in doubt – look for 7-Eleven, there's usually one next to it.
RELIGION. The main religion on Ko Samui is Buddhism, although there still exists a small Muslim population on the island too.
BEACHWEAR BELONGS ON THE BEACH. Although Koh Samui locals are used to tourists, it's considered inappropriate to wear beachwear anywhere else than the beach. Be respectful.
SAFETY. Koh Samui is a pretty safe island for female solo travellers and families even during the night. Of course, you always need to take general precautions, but I never felt threatened or unsafe (except for the monkeys, I am scared of them).
CELL SERVICE. I had a perfect connection everywhere I've been on Koh Samui island. Just while cruising on the sea around other islands the cell service was a bit harder to get.
ELECTRICITY. I never had any problems with electricity, although I think you might experience random power outages during the rainy season. The electrical outlets in Koh Samui feature two round prongs, fitting most European and Asian appliances as well as the flat prongs of the USA and Japan. The standard voltage is 220 volts.
WIFI. Many hotels, cafes and restaurants have WiFi and they are sharing the password with their customers. And it's usually super fast. If you need to stay connected while on the road, then consider buying a local Sim card with mobile data. You can get unlimited plans for a whole month for as cheap as 150 baht (~4 Eur / ~4,30 Usd).
HOSPITALS. There are quite a few hospitals, clinics and dentists on the island, so in case of emergency, help is always available. But be sure to have travel insurance to help you with medical expenses. I always use Safety Wing when I'm travelling, it is very affordable and their customer support is super kind, helpful and quick to respond.
FAMILY-FRIENDLY. Koh Samui is one of the islands that are super family-friendly. Yes, there is a whole wild party scene in Chaweng, but outside of it, there are plenty of things to do with your family and kids.
How many days are enough in Koh Samui?
Koh Samui is the second largest island in Thailand and it definitely has plenty of activities and sites to visit, but 3 days are enough to spend in Koh Samui.
In 3 days you will be able to see the major attractions and popular sites, hop around the beaches, enjoy swimming in waterfalls, have a party and relax in a hotel.
Koh Samui has a 51-kilometre-long ring road which perfectly connects all the parts of the island and is easy to navigate, so even if you're not an early bird you will be able to see and do many things on your list.
Don't forget to read more of the best things to do in Koh Samui.
The best time to visit Koh Samui
When is the best time to visit Koh Samui?
Well, Koh Samui has a tropical monsoon climate, it is an all-year-round holiday destination, with high temperatures and a significant amount of rain. There are three main seasons that weather can be described in Koh Samui: dry season, hot season and rainy season.
Dry season (December to March)
The dry season in Koh Samui is amazing. Temperature is always around 30°C, which is considered a cooler temperature, with a small amount of rain and light winds. February is usually the driest month of the year.
For many visitors, the dry season is thought of as the best time to come and it is a peak season for businesses. Expect many other travellers in the area, busy bars, and crowded beaches.
If you're thinking of coming here from mid-December to mid-March make sure to book accommodation in advance to get the best prices. Even though there are plenty of hotels and resorts to choose from, all great deals and many options disappear very quickly during this time.
Hot season (April to August)
The hot season in Koh Samui is called that way as the high temperature and humidity sometimes creates unbearable heat wave during this period.
April is considered to be the hottest month throughout Thailand and it is not an exception in Koh Samui.
Travelling during the hot season will reward you with a lot of sunshine, but you will notice an increase in rain moving towards September.
Rainy season (September to November)
The rainy season is also considered a low season in Thailand. Between September and November, Koh Samui is affected by the northeast monsoon and there's a high chance of rainfall and thunderstorms, October being the rainiest of them all. Sea conditions can be rough during this time too.
People who travel to Koh Samui during the rainy season are rewarded by low hotel rates, quiet streets and empty beaches. It is not a bad time to travel because you can still enjoy warm weather and the best-value offers if you don't mind relaxing in your resort while it rains.
But if you want to travel during the rainy season, for a higher chance of sunshine and better sea conditions, check out Phuket and Khao Lak on the Andaman coast, they have drier and sunnier weather in November.
How to get around Koh Samui
Unfortunately, Koh Samui didn't prioritise public transport on the island like other places in Thailand, but there are a few ways you travel around it.
Renting your own vehicle
It is possible to rent your own vehicle, car or scooter, during your stay on Koh Samui and it would give you more freedom and a chance to explore the island independently.
Renting prices vary depending on the model and the place you rent it from. We rented a simple Honda scooter for a few days and paid 150 baht (~4 Eur / ~4,3 Usd) per day. If you rent for a longer period, like a month or more, expect to have a bit of a better price, something about 125 baht per day ( ~3,5 Eur/~3,9 Usd).
When renting a scooter don't forget to take pictures of the vehicle. That way you will be able to prove that it was already damaged when you got it.
Also, Koh Samui is for experienced drivers, it is not the best island to learn to drive a scooter because it's pretty hilly in some parts and traffic might be overwhelming at times (especially on the main road). Having an international driving license would be ideal, you never know when police will stop you and travel insurance can refuse to cover the damage and health care in case of an accident. And don't forget to wear a helmet, even if you're the only one doing that.
Songthaew's in Koh Samui
Another great option to travel around Koh Samui is by catching a songthaew.
Songthaews are Koh Samui's version of public transport, it is a converted pick-up truck with two benches in the back that can fit around 8-10 people, with the occasional person choosing to hang off the back bumper.
Although Songthaew's route and schedule are not entirely clear rather depend on drivers' preferences and who's paying to go where they usually circle the ring road and other large secondary roads. The more popular and bigger your destination, the more chance the driver will take you there. But if not, you can always try the next one.
If you want to go somewhere, stand on a roadside (the busier, the better) flag it down with your hand, tell the destination to the driver, agree on the price, and hop in the back. When you want to get off, ring the bell inside, and once he pulled over to the side pay the driver the correct amount (don't expect a change if not).
Taxi's and online bookings
And last, as everywhere else in Thailand, there are quite a few taxis that you can hire if you need someone to take you to places or drive you around.
Online booking is a bit complicated in Samui. Uber does not exist here. Grab App is working in Koh Samui, but there are not a lot of drivers there so it's pretty unreliable. The better Grabb App alternative was Navigo, but it is not available anymore. But I heard a few positive comments about inDriver so it's worth trying that out.
If you catch a taxi the old-fashioned way – finding one on the street and asking to take you somewhere – then don't forget to bargain a little and set the rate before getting inside to avoid overpaying and misunderstandings.
Tours
Joining a group or a private tour is a great option to explore Koh Samui. You can book a group tour that will take you to the most popular spots on the island, or book a private tour that can be adjusted to your wants and needs.
I think this is a great option for those who have a very limited time on the island and want to see the best of it and be stress-free.
You can book tours through your hotel, any travel agency in the area or using trusted websites like Klook and GetYourGuide.
Read a complete Koh Samui travel guide to find out more about travelling on this wonderful island in Thailand!
Where to stay In Koh Samui
Koh Samui is a pretty big island and there are areas that are more loved by tourists like Chaweng Beach, Lamai, Bophut, and Choeng Mon. However, there are so many other places that you can not only explore but also stay at, which is why it is a good idea to figure out where to stay in Koh Samui.
Chaweng Beach
Chaweng area is considered the epicentre of the island, it is a place all new visitors head to once they arrive here.
If you are looking for a peaceful and tranquil sunny getaway end up disappointed as this area is busy and everything including the beach, shops, bars and cafes are usually jam-packed with other holidaymakers.
Still, Chaweng is very popular amongst travellers because the beach is truly beautiful and it is a great spot to enjoy active sports, try a variety of foods, spend your afternoons in cute cafes, have a few cocktails and party your night away.
The good thing about the Chaweng area is that it has plenty of accommodation options to choose from. You will find low-cost hostels, midrange hotels and luxury resorts as well as family-friendly options in the area. But make sure to book it in advance, the best options go away very quickly.
Where to stay in Chaweng Beach: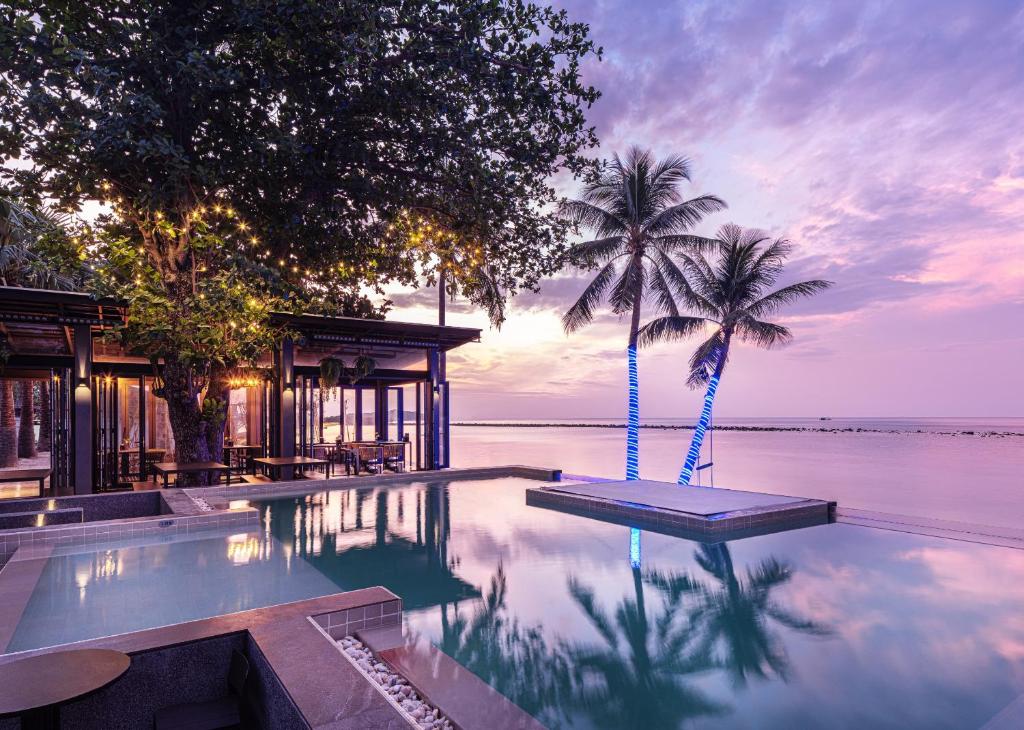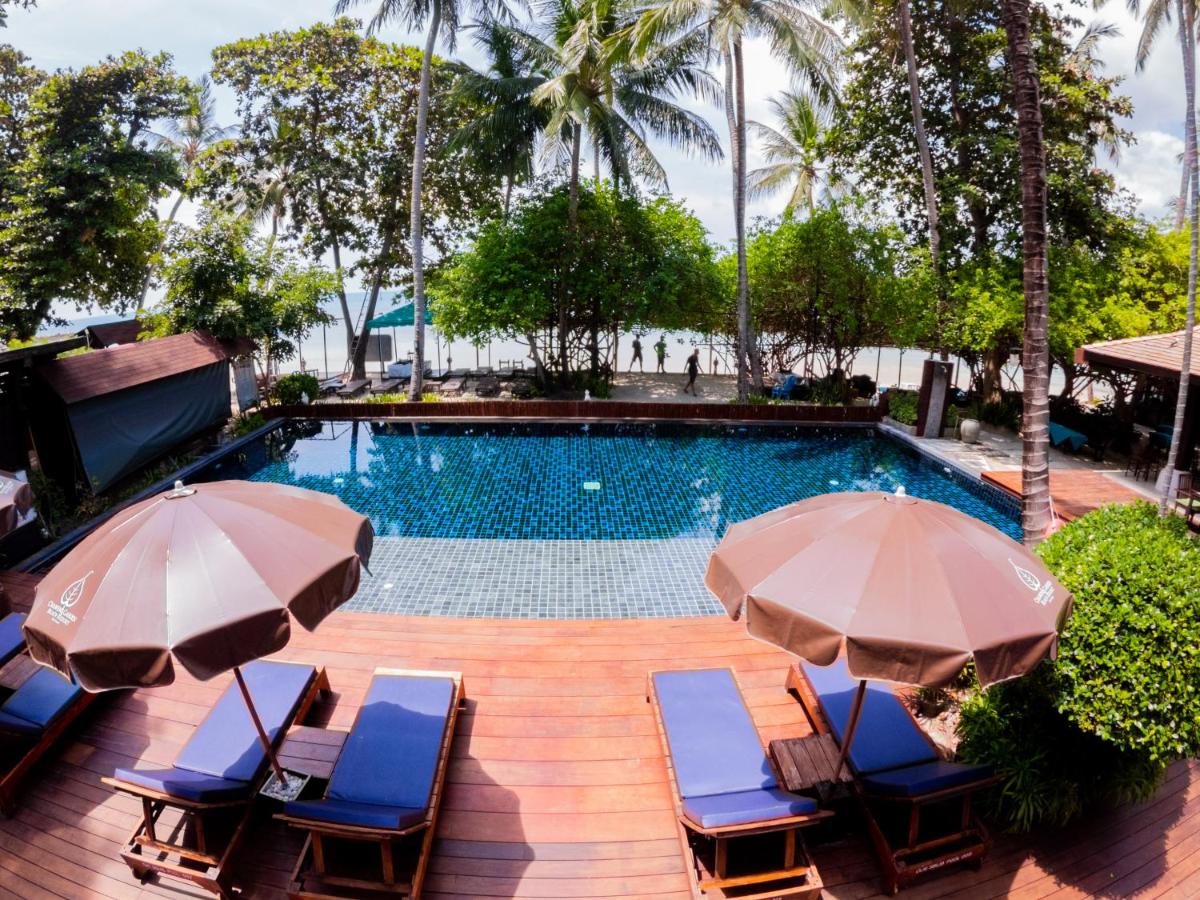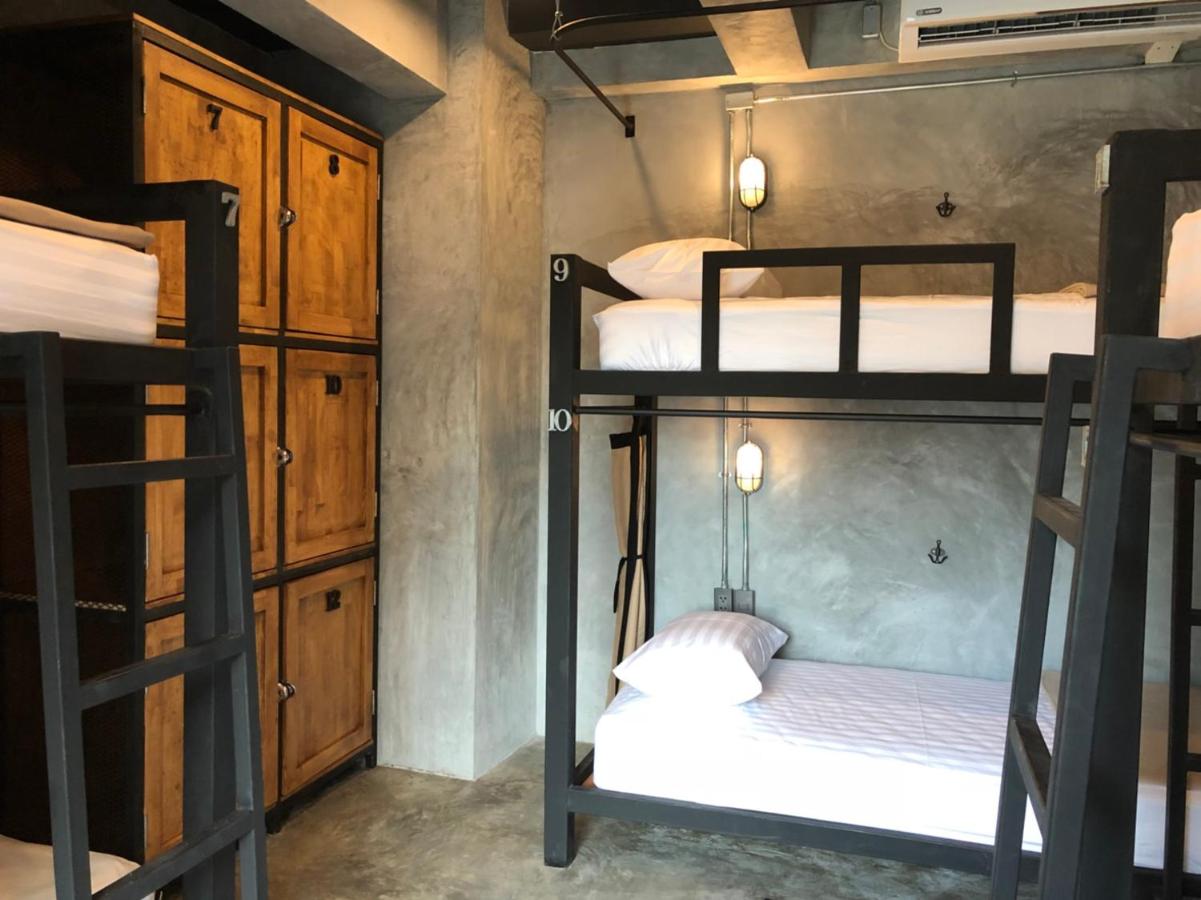 Lamai Beach
Lamai Beach is one of the most popular, just like Chaweng. However, the nightlife here is not as wild but it offers plenty of things to do in the area. It is considered a honeymooner and family-friendly destination.
Lamai beach is perfect for sunbathing and swimming. Many locals and travellers visit the beach, particularly the centre and the south is ideal for swimming with the waters being cool and clean.
You will have a chance to see wonderful sunrises here. Many travellers choose to wake up early so they can witness the beauty that nature brings in the morning.
There are plenty of resorts that line up the coast of Lamai Beach. Here even more lush hotels in the area are much more affordable than those you can find in Chaweng.
Lamai has a walking street market where you can enjoy fresh and various food and a few drinks during the night.
Where to stay in Lamai Beach: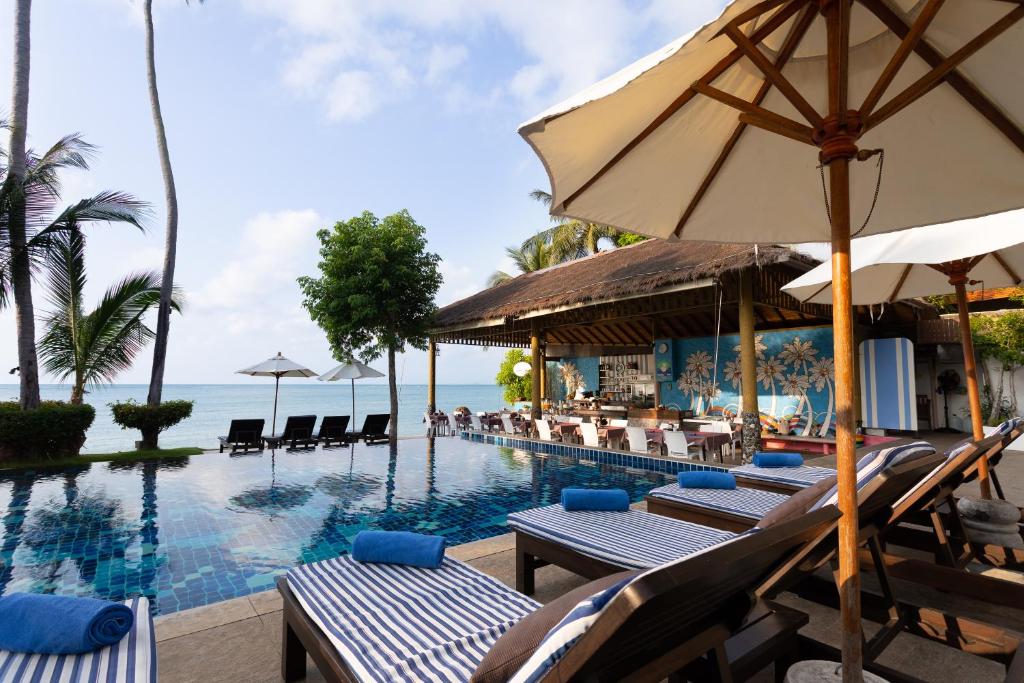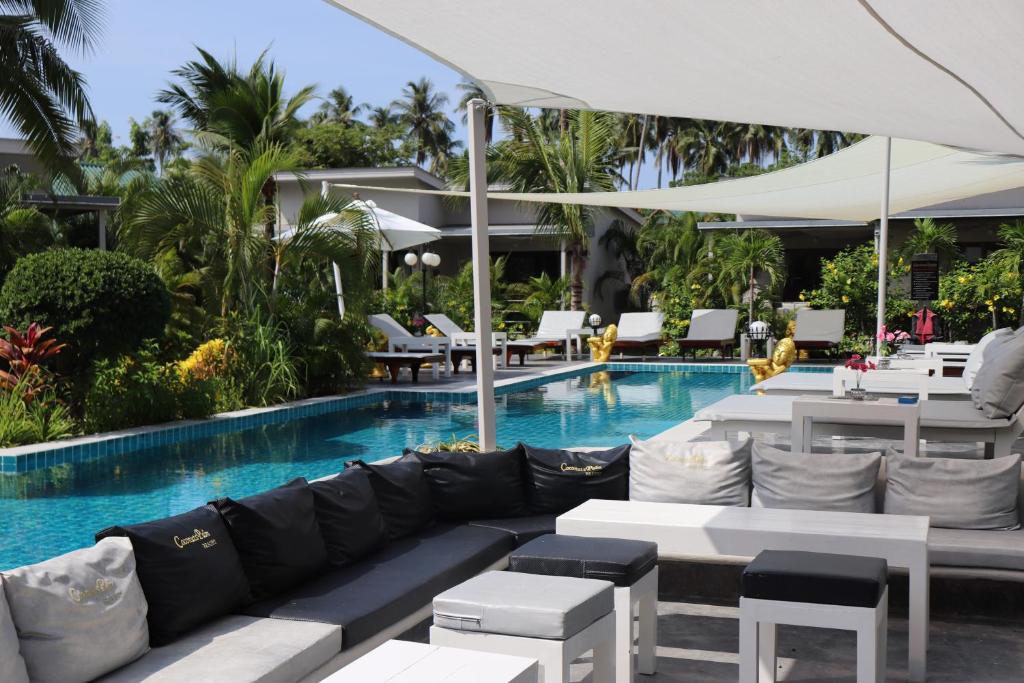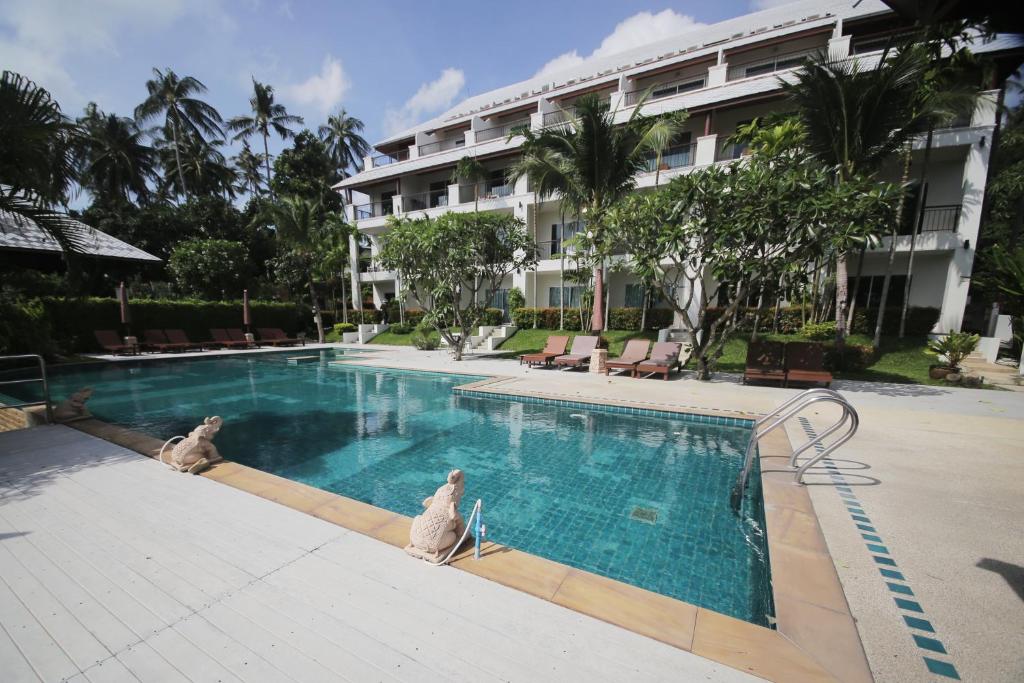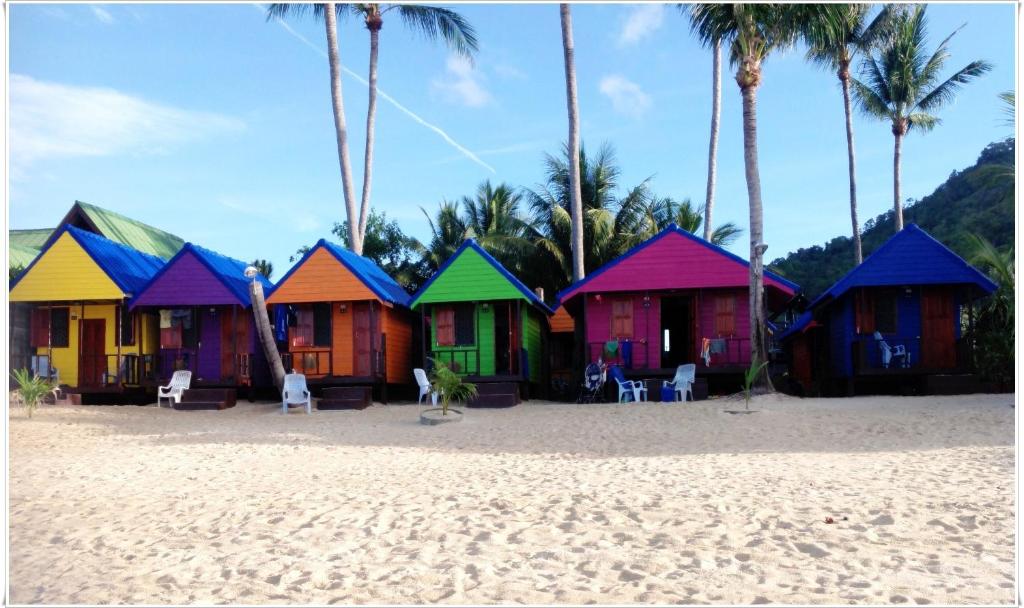 Maenam Beach
Maenam beach is one of the longest on the island but it is quite serene. Maenam literally means "Mother of Water" in English and is a favourite of those who want to spend a calm and quiet holiday away from the crowds, noise and parties like Chaweng.
There's actually not a lot going on in the area, but there are plenty of cafes and restaurants to have delicious meals and Maenam Morning Market which is perfect for breakfast and stocking up on fruits or veg.
There are many different accommodation options here, private villas, resorts, and hotels, and all of them are pretty affordable compared to other popular areas on the island.
Where to stay in Maenam Beach: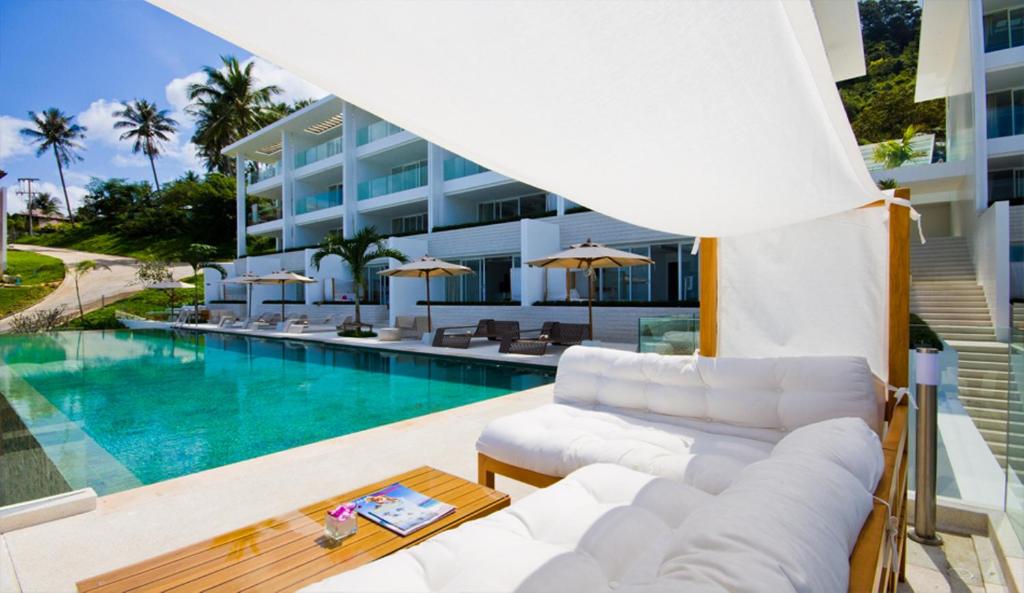 Bophut
Bophut is a charming place to stay for families and couples. It has a beautiful beach that provides visitors with unforgettable views of Ko Pha Ngan.
Bophut is located near Fisherman's Village, a historic place that has many art galleries, tourist-oriented shops, and many different cafes and restaurants with a sea view.
It is also located near the famous Big Buddha statue, standing over 39 feet tall, and the Wat Plai Laem temple complex, where you can spend your time during the holiday.
Where to stay in Bophut: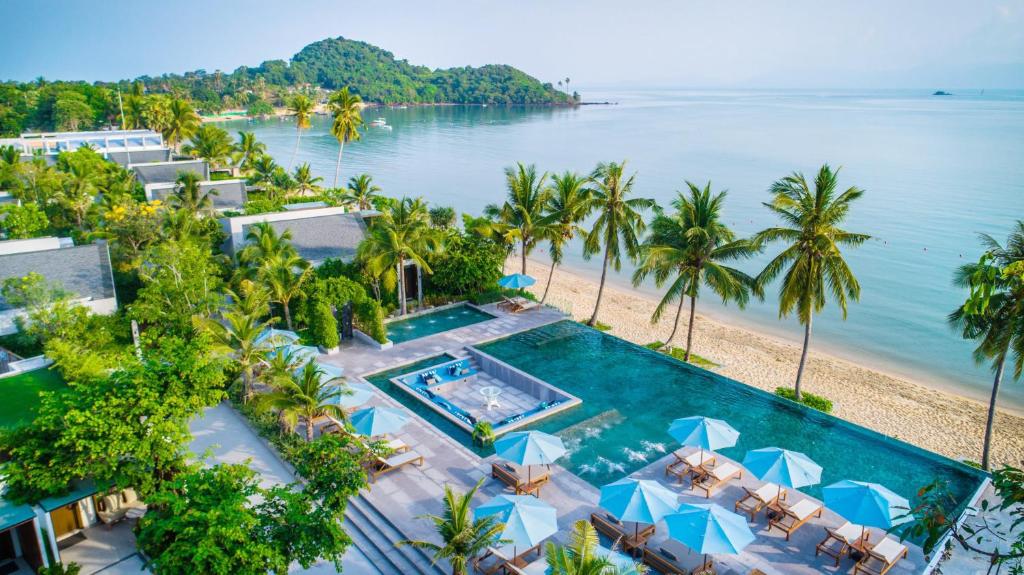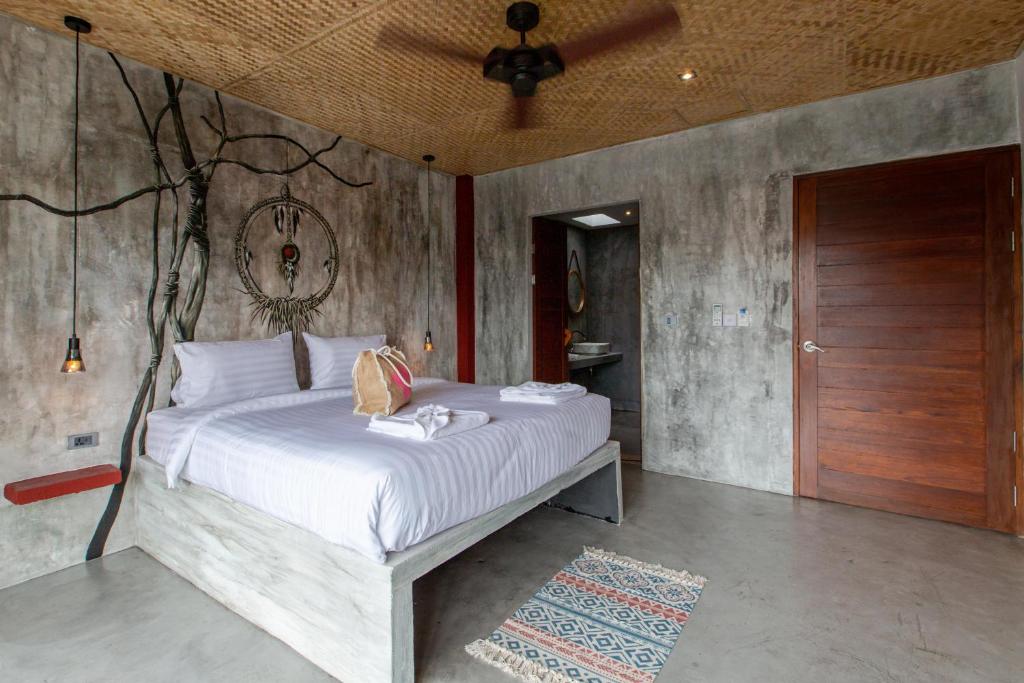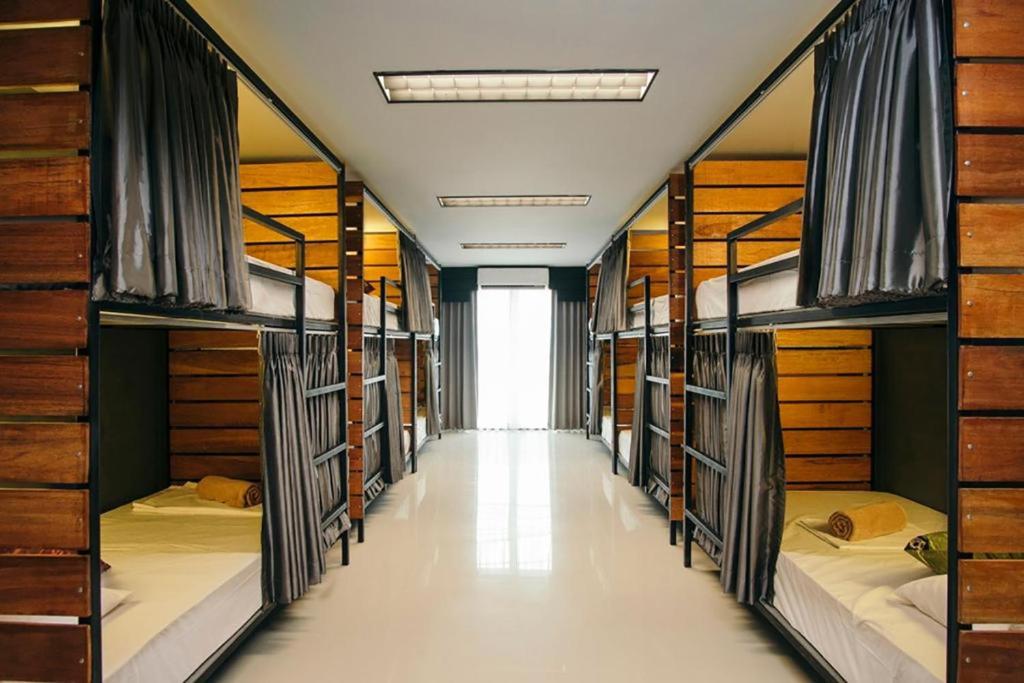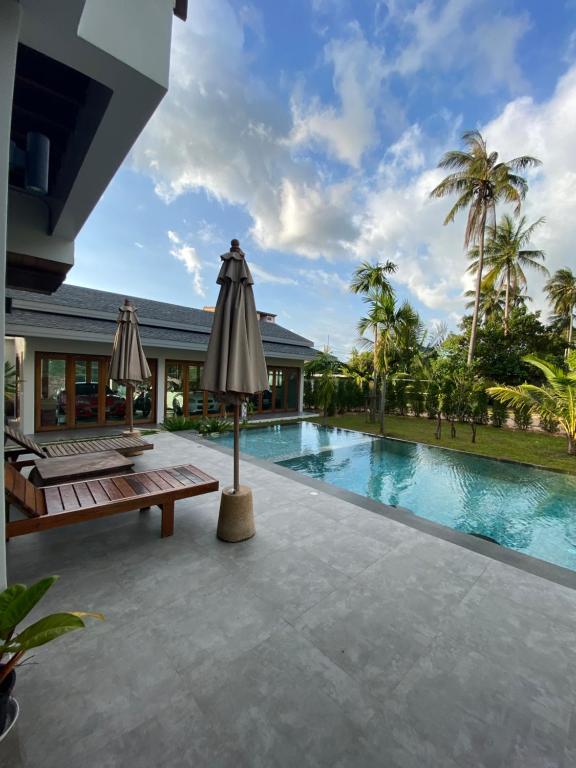 Choeng Mon
While in northeast Koh Samui, Choeng Mon is worth exploring. This place is exceptional with its series of bays that come with beaches that boast white sand.
Many people, especially couples, loves Choeng Mon because of its quietness. It is a special place with its numerous bays with white sands and clear waters.
Even though privacy and serenity are one of the main things you will notice here, it doesn't mean that there is nothing to do while you're here.
You can go to try delicious food, enjoy snorkelling, drink coconut water under the palm tree and enjoy your holiday to the fullest.
Another great thing about this place is that it is not far from the other popular sites. You can reach Chaweng in just 15 minutes and the Big Buddha is five minutes away.
Choeng Mon doesn't have many low-price or backpacker budget options, but you will find family-friendly accommodations, some midrange hotels, and numerous luxury hotels all over the area.
Where to stay in Choeng Mon: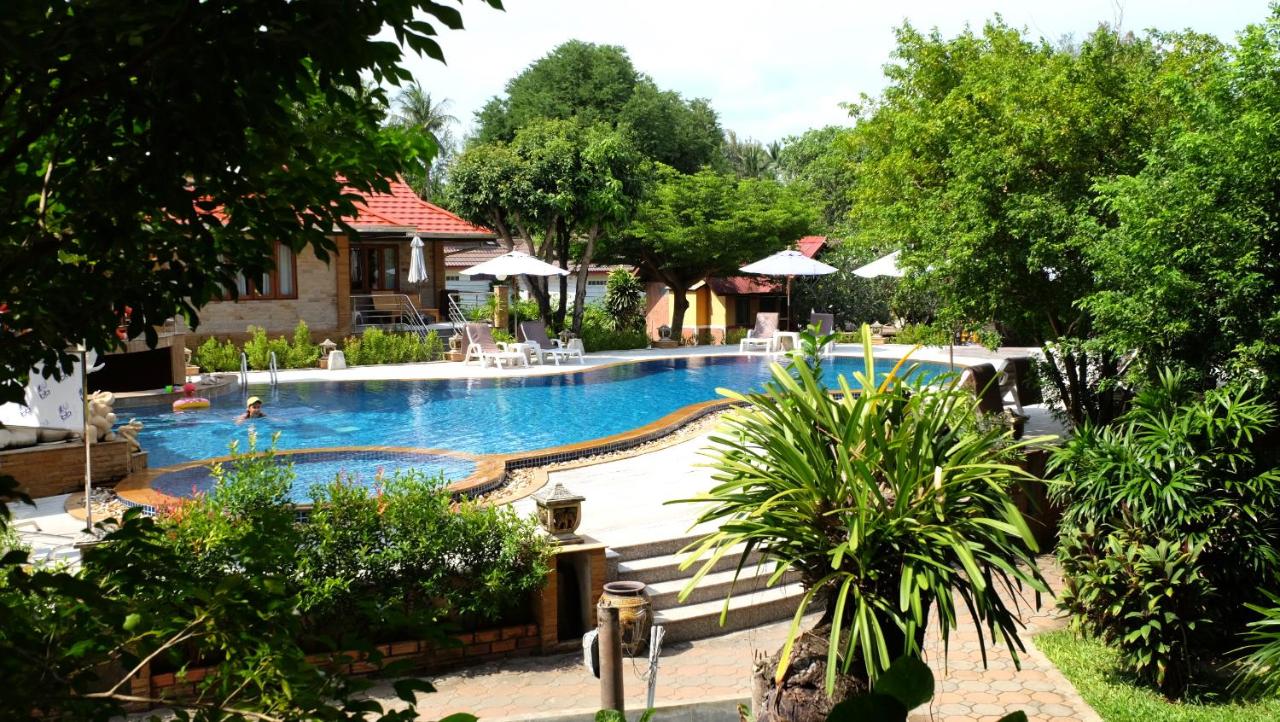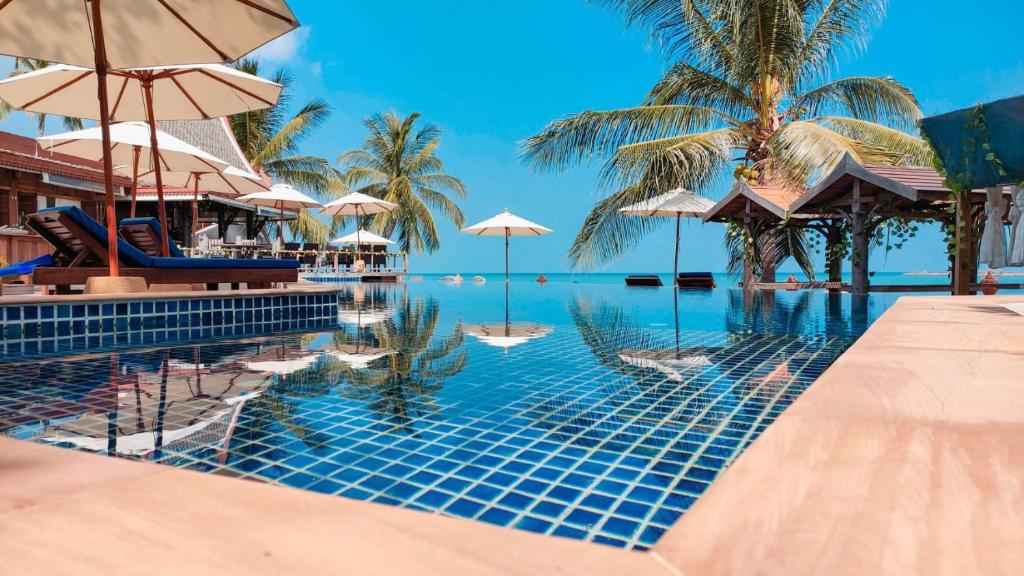 Bangrak Beach (Big Buddha Beach)
The Big Buddha Beach, also known as Bangrak Beach, benefits from its location because it is near the airport, as well as the top attraction Chaweng Beach, and of course the Big Buddha which is one of the top things to see here.
Picture a long wide beach with different bungalows, ranging from budget to midrange prices. It is the perfect spot for backpackers as well, hostels, beachfront resorts, boutique hotels and villas are pretty affordable in this area.
You will find many dive shops, supermarkets, bars, and other nightlife options here. Also, famous British pubs like Elephant and Castle are located in the area.
If you are planning to join Full Moon Party in Koh Pha Ngan then you catch a speedboat at Bangrak Pier.
Where to stay in Bangrak Beach: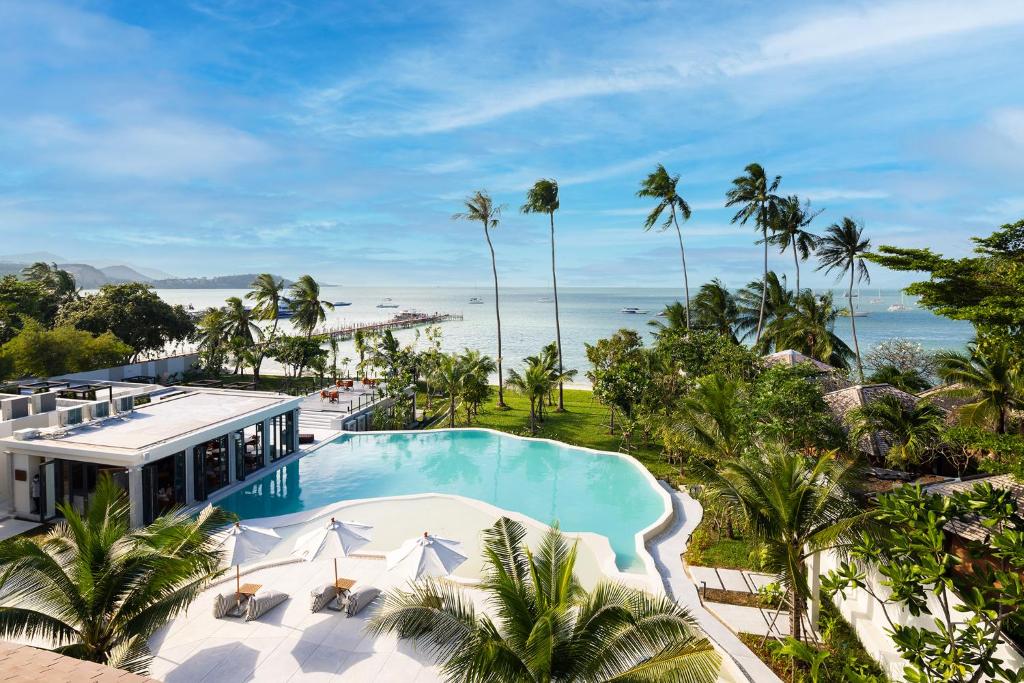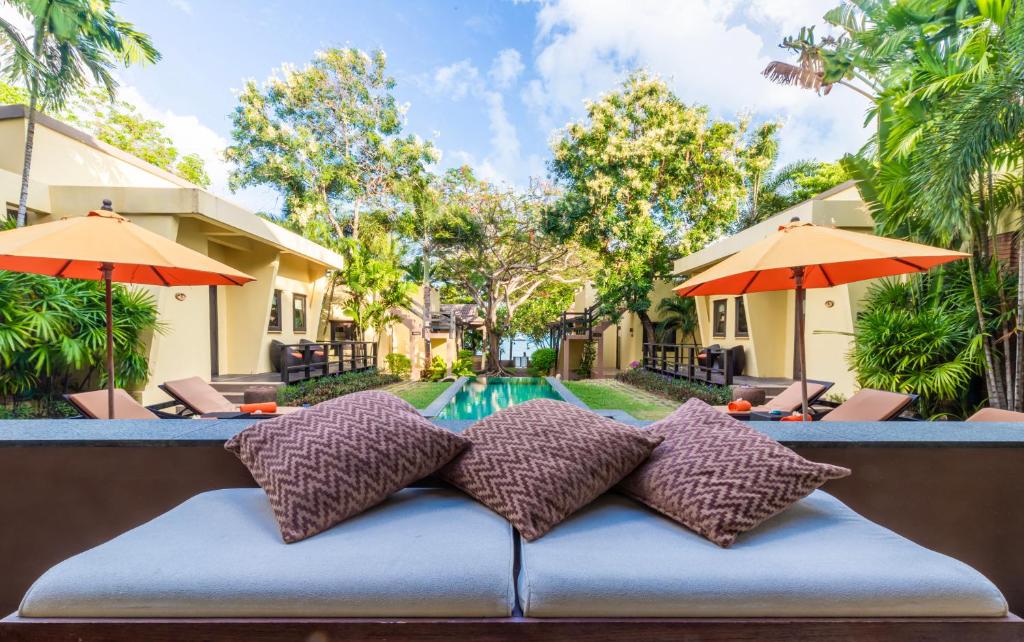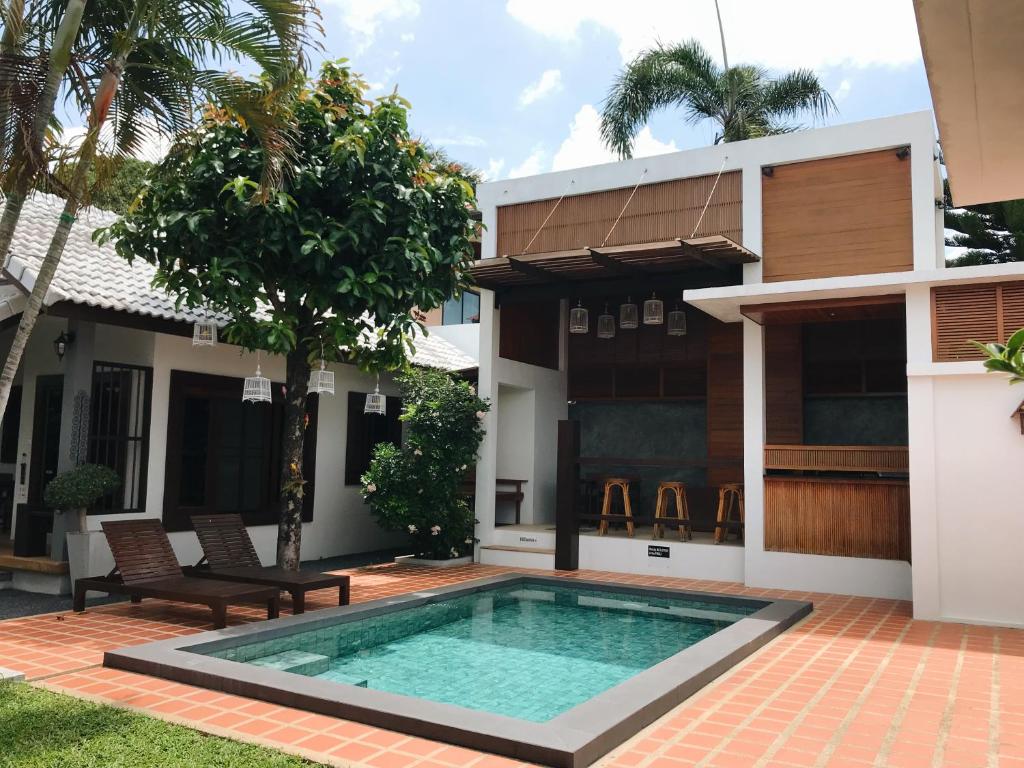 Taling Ngam
Taling Ngam gorgeous area and a hidden gem in Koh Samui that a lot of people tend to overlook.
Taling Ngam Beach itself is lovely, the whole picture of the narrow sandy beach with big rocks rising from the shiny azure water and lush greenery is breathtaking, and the view of Ang Thong Marine National Park makes this place one of the most scenic areas in Koh Samui.
Taling Ngam area is located in the southwestern part of the island, a little detour from the Ring Road makes it pretty remote than the other areas. To reach Nathon, the main town, and the pier takes about 25 minutes while reaching Chaweng will take around 45 minutes.
Taling Ngam area is perfect for those who aim to relax during their time on the island, soak up all the beautiful views of nature after a long day of exploring and enjoy a dreamy holiday destination.
Taling Ngam has plenty of accommodation options matter what your budget is, you will find a room to stay and sleep comfortably.
Where to stay in Taling Ngam: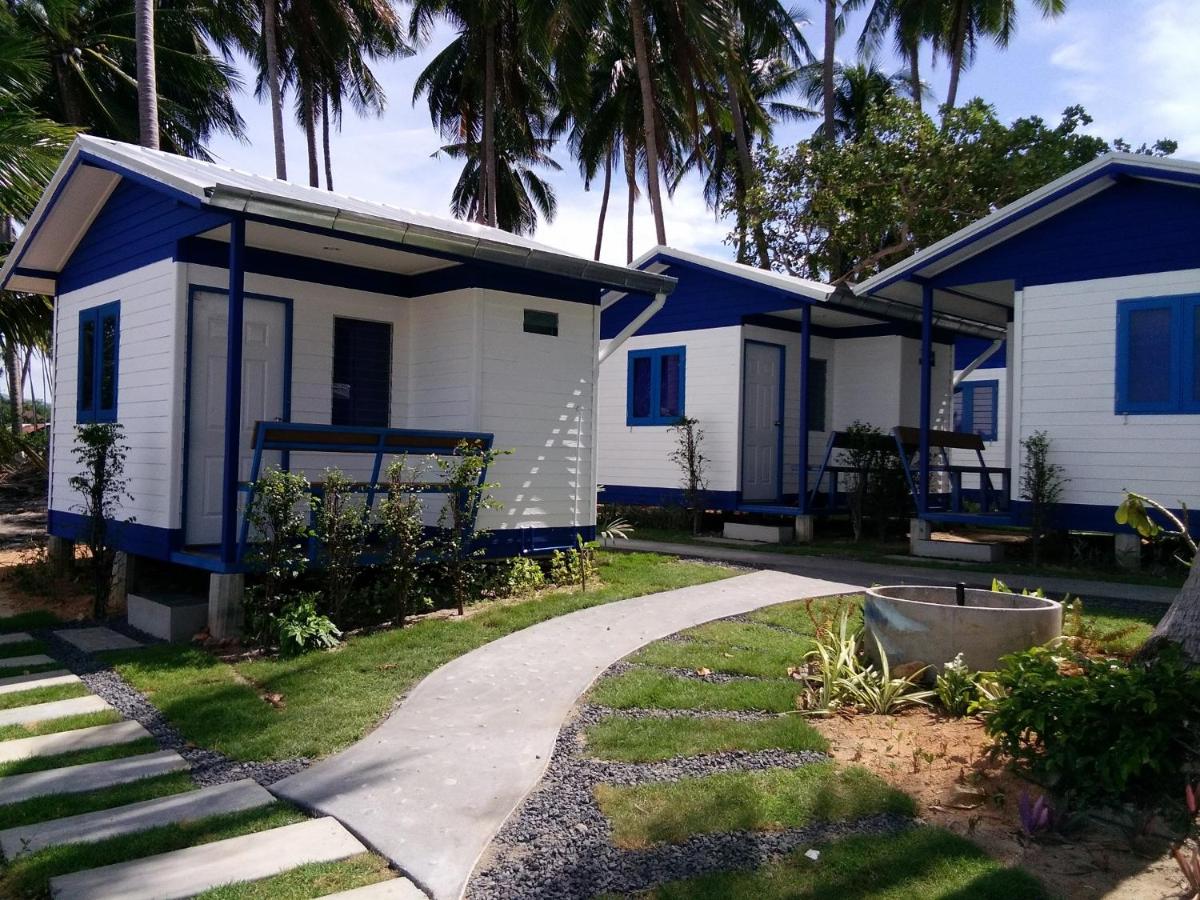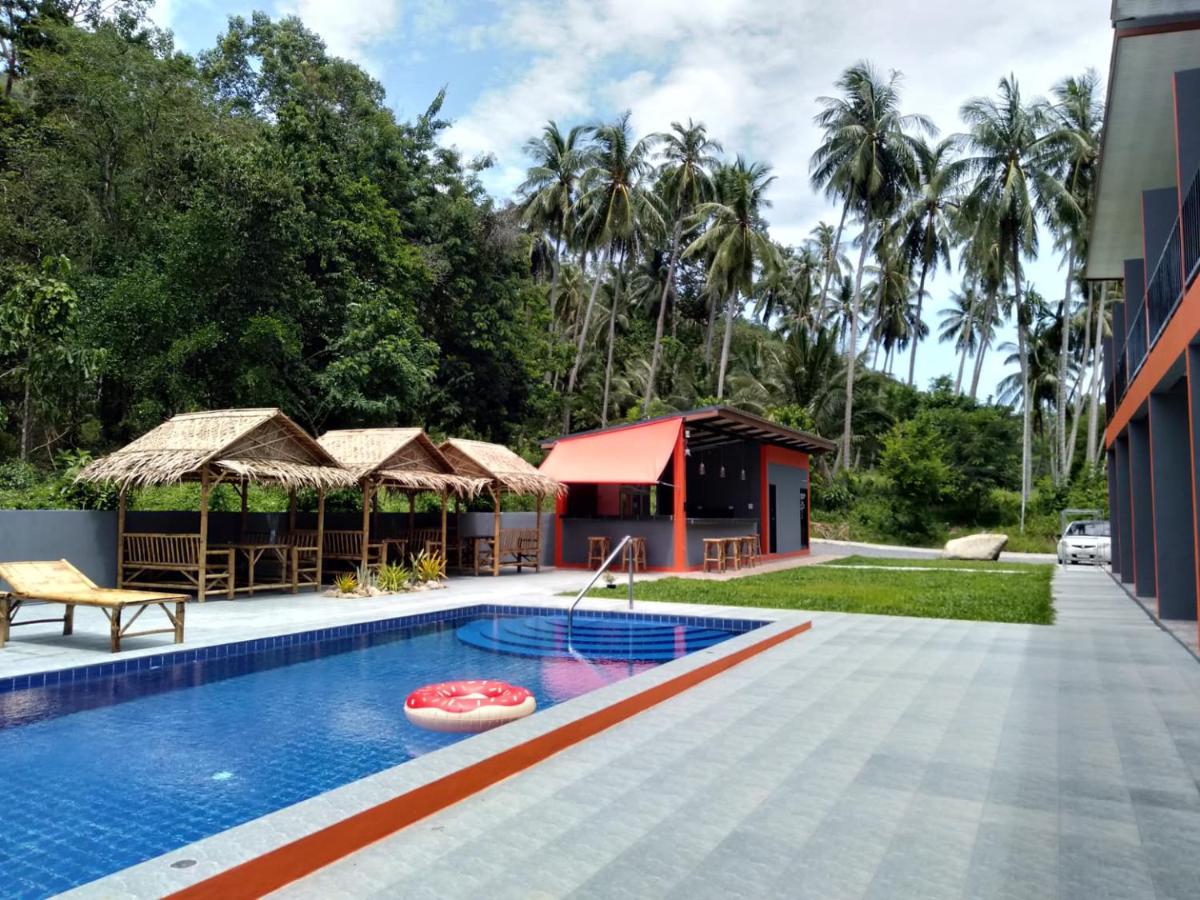 Lipa Noi
Lipa Noi is one of the best places for totally quite and peaceful holiday.
Lipa Noi is located in the west of Koh Samui and hosts not only the pier that gives easy access and comfort to reach other destinations but also a beautiful golden sand beach and breathtaking sunsets.
The coastline here is probably the only one that doesn't have hidden coral reefs and together with pretty shallow water is a wonderful place to spend your holiday with kids.
The choice of accommodation here is a bit limited, but you will find some beautiful resorts and villas worth attention too.
Where to stay in Lipa Noi: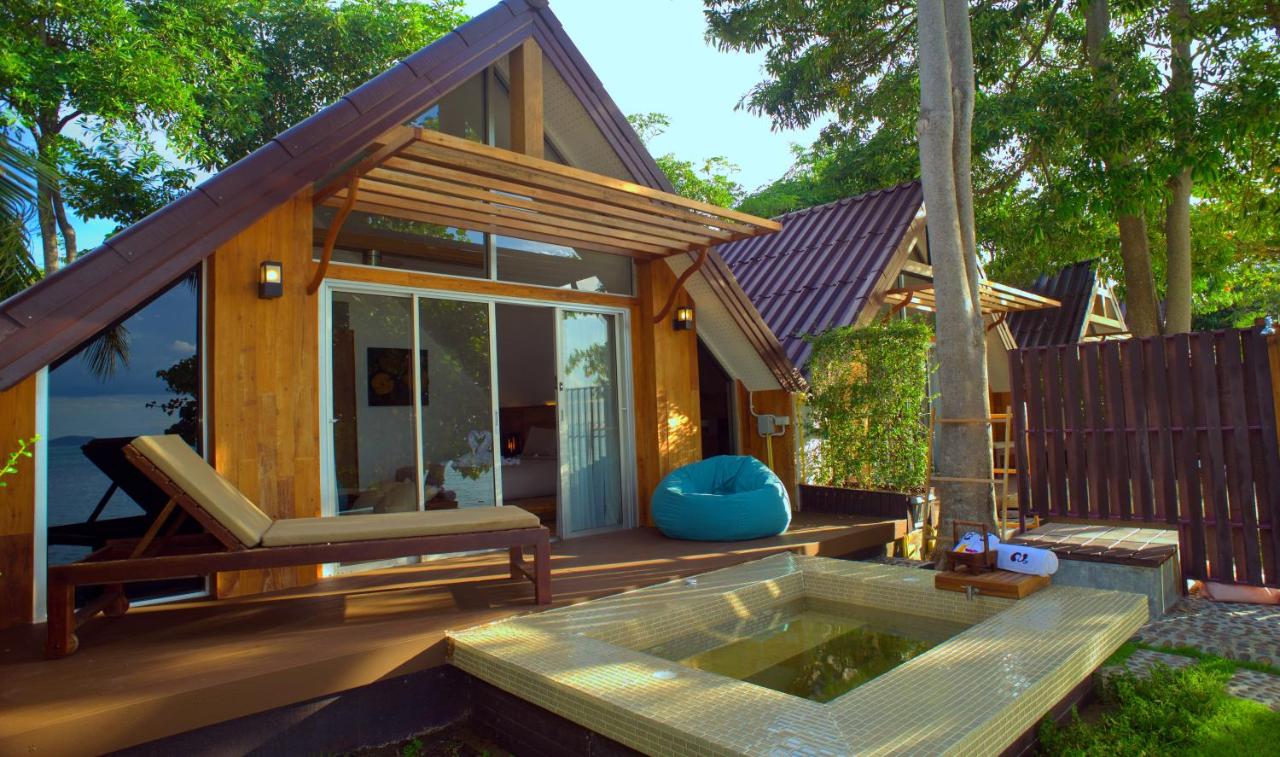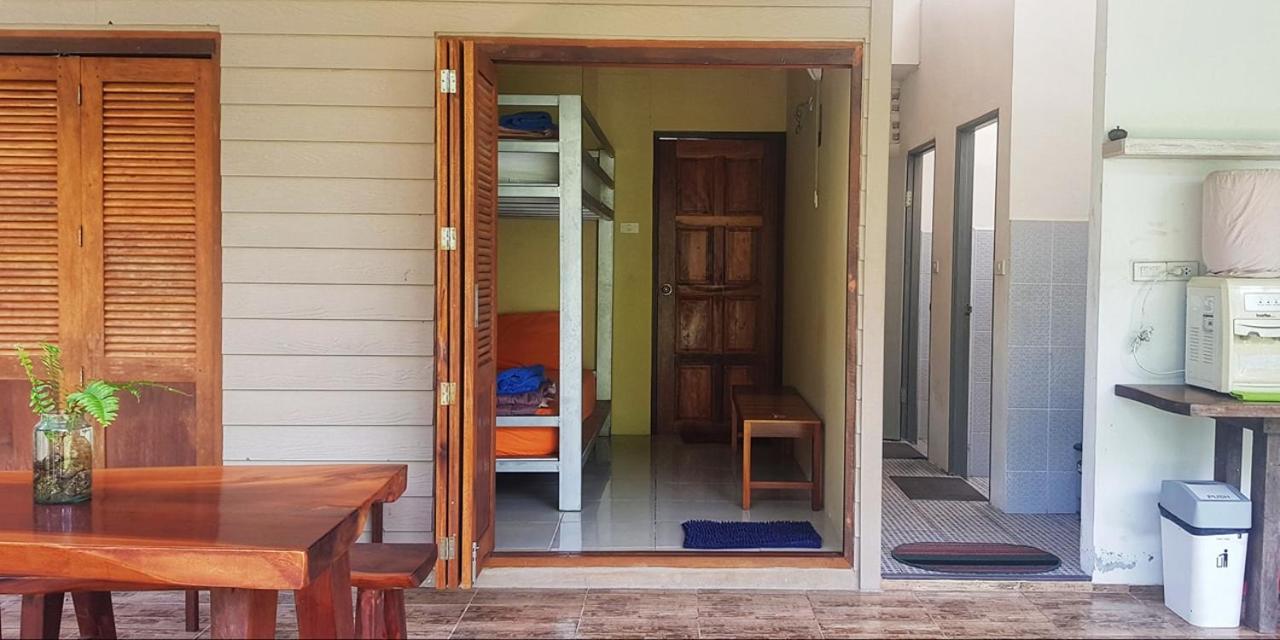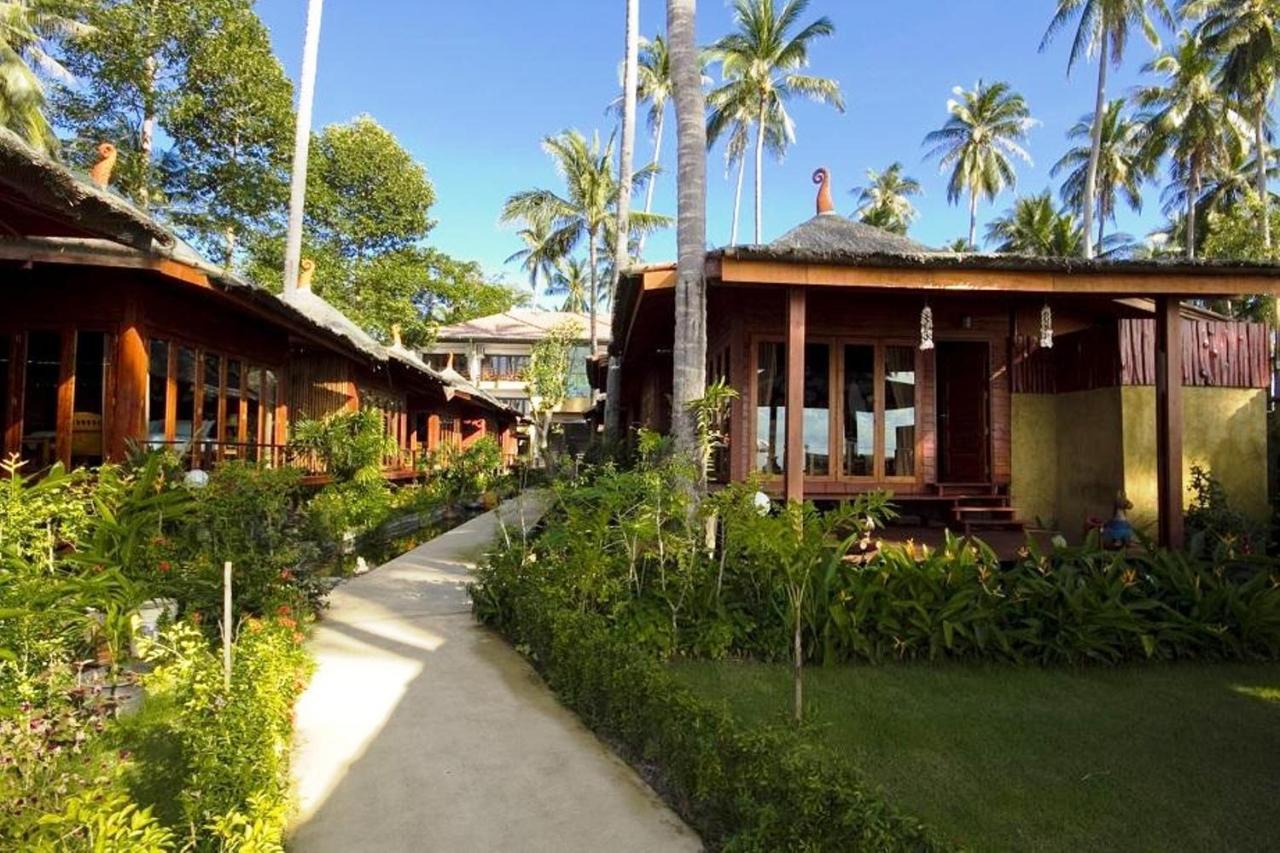 ---
Thank you very much for reading the whole guide of things to do in Koh Samui.
If you've already visited Koh Samui, it would be amazing to hear travel tips and recommendations from you in the comments.
If you haven't been there yet, please don't hesitate to ask us if you have any questions. We are here to help!
Happy Travels!
---
---
RELATED ARTICLES