THE PERFECT ISLAND THAT HAVE IT ALL
Welcome to the Thailand travel guide! I'm sure you already heard stories or seen breathtaking pictures of this beautiful destination! I am a true fan of Thailand; I had a chance to travel around this beautiful country a few times and always dream about going back there…
Thailand is a country that is lucky to have warm weather, gorgeous landscape with mountains and beaches, friendly and kind people and literally thousands of things to do.
If you'd ask me, I couldn't choose my favourite place in Thailand, but I love that here I can spend days relaxing and taking all the sun on the beach, then go hiking the narrow jungle paths and enjoy window-shopping in huge malls. I call this balance of life (haha).
But what I can say is that Koh Samui is one of those places that surprisingly have it all, I really enjoyed my time here and I think you will not be disappointed too.
I wrote an extensive Koh Samui travel guide that will help with planning your trip here. So grab a cup of tea and lets dive into it!
Jump into / Table of Contents
Why visit Koh Samui
Koh Samui is a wonderful island in Thailand that does have something for everyone.
Koh Samui is a beach paradise for people who want to sunbathe, swim and snorkel during their holiday. There are so many beaches to choose from, some are offering many activities and restaurants on-site and some are tranquil and unspoilt where you can relax and enjoy your time far away from everything.
Koh Samui is also home to many waterfalls and viewpoints where you can spend hours enjoying nature and panoramic views.
There is an abundance of places to eat and drink on the island. You can enjoy Thai cuisine, try Indian food or comfort yourself with Italian dishes.
The nightlife in Koh Samui also doesn't disappoint too. If you want to have a few drinks with your new friends or party all night with your spouse, there is the Chaweng area where all the things are possible.
The list of things to do in Koh Samui doesn't end with beach-eat-party-repeat, you can join a boat tour to surrounding islands, ride a quad bike in the jungle, zipline above the trees and end your day with a relaxing massage.
Koh Samui is a perfect destination for everyone, families with kids, people who want to relax and the ones that are looking for a comfortable workation spot.
Koh Samui Orientation and Map
Koh Samui may look small on the map but it is a second largest island in Thailand.
It's located in the Gulf of Thailand and is a part of Surat Thani Province.
You can easily drive around the island as it has a 51-kilometre long ring road that takes 1,5 hours to finish. There are a few secondary roads that would add extra time if you decide to detour.
The eastern part of the island is greatly developed with Chaweng and Lamai attracting the most visitors and being the epicentres of tourism.
Many travellers base themselves on the northern part of the island, beaches are beautiful there, it is pretty calm compared to Chaweng or Lamai, there is plenty of accommodation for various budgets and needs and it is pretty easy to reach the main spots of Koh Samui.
Nathon is the administrative centre of the island, hosting the main ferry pier, city hall and offices, but has little interest for travellers.
The landscape of Koh Samui is mountainous offering stunning views, waterfalls and coconut palm plantations.
North of Koh Samui is the islands of Koh Pha Ngan and Koh Tao. Many travellers visit both islands after Koh Samui or as a day trip.
Here's an orientational map that you can save and use when travelling to Koh Samui. All the places that are mentioned in this guide are pinned on the map.
Beaches In Koh Samui
Koh Samui is a beach paradise in Thailand. There are so many beaches in Koh Samui that you will need an extra day of your holiday to visit them all!
From busy and well-developed beaches with cafes and water sports to tranquil and unspoilt white sand beaches with clear blue water and lush greenery around.
Here's the list of Beaches that are worth visiting in Koh Samui:
Chaweng Beach
The most developed and touristy beach is Chaweng Beach on the east coast of the island.
The beach and the whole area are surrounded by resorts, restaurants, snack bars, souvenir shops and all kinds of activities.
It is a perfect holiday place, you can come here during the day to relax on the beach laying on your sunbed and have a great night out with a few drinks and a party in one of the clubs.
The northern part of the beach is busier than the southern part. If you want to be in the middle of the action then the northern side is for you. But if you're looking for a bit of relaxing downtime, then head to the southern part of the beach.
Lamai Beach
Lamai Beach is the second most popular beach on the south of Koh Samui.
Here you'll also find many hotels, restaurants and bars lined up on the beach, but it is less crowded and more relaxed than Chaweng Beach.
Silver Beach (Thongtakian Beach)
Silver Beach, or Silver Bay, is a small beach between Chaweng and Lamai Beach.
This little hidden gem is worth visiting for its white sand and clear water framed in a huge rock and lush greenery bay.
Bophut Beach
Bophut Beach is located in the norther part of Koh Samui (around a 30-minute drive from Chaweng Beach).
It is a very long stretch of sand right next to the iconic Fisherman's Village where you can enjoy one of many great seafood restaurants in rustic-style buildings overlooking the sea.
It is a bit more expensive area prices being a bit higher than the average in Koh Samui, but it is worth a visit on your day of exploring the island.
Maenam Beach
Maenam is a very long (a few kilometres long) sandy beach on the island's northern side.
It is a pretty quiet beach backed with palm trees and a view of beautiful azure water and Ko Pha Ngan island.
People come here to have a relaxed and tranquil holiday as there are only a few resorts, bars and restaurants scattered in the area.
Bang Po Beach
Situated between Laem Yai to the west and Maenam Beach to the east, Bang Po Beach is another long stretch of sand beach on the northwest coast of Koh Samui.
The eastern part of Bang Po is also referred to as Baan Tai, so locals will know where to take you if you're staying here.
Bang Po Beach is very quiet with just a few resorts, restaurants and bars here and there.
It is nice to walk on this beach as it feels a bit more 'wild' than the other beaches I mentioned before.
We stayed at Coco Sunset Beach in a simple bamboo bungalow 1 minute away from the beach.
Choeng Mon Beach
Choeng Mon Beach is located at the northwestern tip of Koh Samui island.
Choeng Mon is a beautiful white sand beach with shallow clean azure water, perfect for relaxing and enjoying a hot and sunny day.
There are a few resorts, restaurants and bars scattered around along with beachfront massage huts and sunbeds.
On a low tide day you can walk to the nearby islands Ko Fan Noi and Ko Fan Yai.
Bang Rak Beach (Big Buddha Beach)
Bang Rak is a small beach located between Bohput and the Big Buddha Temple in the northern part of the island.
It is more of a local beach with simple houses, piers connecting other islands and fishing boats roaming around.
Bang Rak Beach might not be the best place to swim but it is a nice place to relax and enjoy the views of Ko Pha Ngan under the palm tree.
Lipa Noi Beach
Lipa Noi Beach is a long narrow sand beach located in the west of Koh Samui.
Even though there are quite a few hotels and resorts around, this beach is an excellent escape from the crowds with the same golden sand and blue water backed with lush greenery and palm trees.
This beach is ideal to unwind after a long day and catch another beautiful sunset.
Taling Ngam Beach
Taling Ngam is a pretty remote and less visited area on the southwestern corner of Koh Samui.
Taling Ngam Beach itself is lovely, the whole picture of the narrow sandy beach with big rocks rising from the shiny azure water and lush greenery left me feeling that I found an untouched hidden gem.
There are a few hotels, restaurants and shops around so you would most likely get everything you want for the day, but it is definitely more quiet and wild (in a good way).
Nathon Beach
Nathon is a seaport and the only administrative city in Koh Samui (the others are villages or tourist oases) located on the western side of the island.
I wouldn't call Nathon Beach the best beach on the island, the sand here is mixed with chipped corals, the speedboats and ferries add nothing good to the blue Gulf of Thailand water and low tides make it nearly impossible to swim.
But the whole landscape of Nathon Beach is charming and it is a good place to have an afternoon walk along the coast.
What to do In Koh Samui
There are so many great things to do on Koh Samui besides chilling on the beach.
This Koh Samui guide will share some activities and the best things to do while visiting this beautiful island.
Big Buddha Temple (Wat Phra Yai)
Visiting Big Buddha Temple should be on everyones list while visiting Koh Samui.
Golden Big Buddha is 12 metres high and stands on a little hill overlooking the beautiful scenery of Koh Samui.
You will find Big Buddha on the northeast of the island (between Bang Rak and Choeng Mon) and it is standing on its own little island (Koh Fan) that is connected by a bridge to Koh Samui.
There are lovely shops and a few cafes where you can buy cute souvenirs and have refreshing coconut water on a hot day.
It's open daily, free to visit and there are big signs saying to dress respectfully, e.g. to cover the shoulders and knees, or you might not be allowed inside the temple.
Wat Plai Laem Buddhist Temple
Wat Plai Laem is a temple decorated with Chinese Buddhist figures surrounded by a man-made lake.
This place is spectacular as there is a huge eighteen-handed Goddess of Mercy Guan Yin, that protects women and children, sick and poor, and a Laughing Buddha, giving prosperity and careless joy.
In the centre, there is a gorgeous temple standing on a huge lotus, by the entrance you are met by a golden Buddha statue and inside you might follow the whole journey of his life in bright and colourful paintings.
The lake is filled with many different fish and turtles, you can buy fish food and feed them.
It's free to visit the temple complex, but remember to dress and act respectfully.
Wat Khunaram
A lovely temple that is worth adding to the travel list is called Wat Khunaram.
This temple is famous for its mummified monk, Loung Pordaeng, that is displayed in a glass casket with sunglasses.
Wat Khunaram is an active temple and many Thai people come here to worship the monk's body (as he represents the strength and power of meditation) and pray for the opportunity to be reborn in the next and better life.
The temple is located about 15 minute drive from famous Lamai beach.
Wat Khunaram is open daily and it is free to visit, but remember to dress and act respectfully.
Elephant Gate and Wat Kiri Wongkaram
Just a short drive from Lipa Noi pier on the southwestern part of the island stands another pretty temple named Wat Kiri Wongkaram.
Less known for the tourists but worth visiting due to its mummified monk Luang Por Ruam and many elephants, deities, and humans around the complex.
When driving into the village of Taling Ngam you will be met by giant elephants that formed a gate at the entrance. It is a really nice stop for pictures.
Elephant Gate was built here in 1979 by an earlier-mentioned monk Luang Por Ruam who wanted to create a more inviting atmosphere for his village.
It is free to visit the temple and gate, but remember to be respectful.
Laem Sor Pagoda and Wat Khao Chedi
In the most southwestern corner of Koh Samui stands the lesser-known Laem Sor Pagoda and Wat Rattanakosin.
The golden Laem Sor Pagoda sits at the end of a rocky Bang Kao beach and is guarded by huge sculptures at the entrance.
A bit further from Laem Sor, (a short climb up the hill to be exact) there is another pagoda called Khao Chedi.
It is a white-coloured pagoda with a laying golden Buddha statue and incredible views of Koh Samui and the surrounding islands of Koh Taem and Koh Madsum.
It's free to visit both pagodas, but donations are appreciated.
Pagoda Khao Hua Jook
Located near Chaweng Lake is a wonderful temple complex and viewpoint named Khao Hua Jook.
Here you can admire the panoramic views of Koh Samui Bay, enjoy the serene(ish) atmosphere when the monks chanting and even spot the arriving and departing planes.
It's a pretty steep road leading to the Khao Hua Jook, but you can get here by scooter or taxi if you're not ready to walk.
It's free to visit this attraction, but remember to be respectful.
Hin-Ta Hin-Yai rocks
One of the most known places on Koh Samui island is the Hin-Ta Hin-Yai rocks (that are also called Grandmother and Grandfather Rocks).
Although there is not much to do here, this place is pretty unique and makes everyone giggle a bit as the few rocks that stand out are similar to male and female sexual organs.
Hin-Tai Hin-Yai is located near Lamai Beach, around 25 minutes drive from Chaweng.
It gets pretty busy here as many people want to see this Mother Natures prank. There is a parking area and a few souvenir shops and cafes here.
Attraction is free to visit, just a 10 baht for parking.
Secret Buddha Garden
A little escape from the crowds and a refreshing atmosphere can be found in Secret Buddha Garden (or Tarnim Magic Garden).
Secret Buddha Garden houses many sculptures of gods, animals and demons that were created by a former durian farmer, Khun Nim, back in 1976.
It is not a big place but gives you Tomb Rider vibes as you walk in the jungle surrounded by mystical creatures that are covered in moss (all in a good way though).
Travelling here might be challenging and better done for experienced drivers due to the steep hills and long drive (talking about scooters here).
Entry fee is 80 baht and mosquito spray is a must.
Overlap Stone
One of the things not to miss while you're visiting Koh Samui is Overlap Stone.
Odly-shaped giant stones give you access to admire a beautiful view of Koh Samui and are a great spot for pictures.
Overlap stone is standing literally in someone's backyard and they take care of the area and a little bridge that allows us to walk up there.
The entrance fee is 50 baht and parking 20 baht.
Fisherman's Village
Located on the northern part of the island next to the Bophut beach is a lovely Fisherman's village.
This village was founded by the fishermen who migrated and found their way to these shores from southern China. It is said that some of their families still live and work there to this day.
This village is lovely and you can spend here a few hours strolling around or make it your base in Koh Samui. Here you will find everything you need – great restaurants, cafes, hotels, shops and a night market that pops up every Friday.
Viewpoints
Besides the views from Pagoda Khao Hua Jook, Wat Khao Chedi and Overlap Stone there are a few other viewpoints that are worth visiting:
Samui Viewpoint – located between Lamai and Chaweng beach Samui Viewpoint is a great place to see the beauty of the bay.
It might be a bit tricky to get there (search for Heart Shape restaurant), and the roads are steep and sometimes hard to follow, so look for a scooter in ideal condition.
Lamai Viewpoint – a well-kept viewpoint with a lovely cafe on the top where you can enjoy some refreshing drinks.
You can choose to walk up the very steep hill (50 baht entrance fee) or get up by cable car (cost 100 baht). There is also a zip line for adventure seekers (costs 800baht).
Lat Ko Viewpoint – a beautiful spot on your way from Lamai to Chaweng beach. Nothing much is going on in here, but it is worth stopping for the amazing views.
Waterfalls
There are quite a few (a lot actually) waterfalls on Samui island that are worth attention.
The most popular one is Na Mueang Waterfall 1 & 2.
It is easy to reach Na Mueang 1, it is located just a few minutes from the car park, and it has a pretty big area where you can swim, relax and enjoy the incredible sounds of the waterfall.
Na Mueang 2 is a bit harder to reach as you will have to climb a steep hill on a gravelled path. But.. There will be fewer people than at the first one, and you will be rewarded with incredible views while swimming in a natural pool.
Hin Lad Waterfall is located near the Nathon and Lipa Noi beaches and requires a 30-minute(ish) hike to reach it.
The hike is lovely, there are signs so it's hard to get lost, and following the river gives many opportunities to refresh and wash the sweat away.
Tan Rua Waterfall is another lovely waterfall that should not be missed. Located in the middle of the jungle it is a wonderful place to hike and swim.
Other smaller ones are Lat Wanon Waterfall, Khun Si Waterfall and Khao Yai Waterfall.
Walking streets and night markets
There are plenty of walking streets and night markets to choose from in any area of Koh Samui.
You can go to Chaweng Night Market and Walking Street near the lake, or Lamai Night market or Fresh Food Market.
Also, you can go to the earlier mentioned Night Market at Fisherman's village which is open every Friday or choose a Nathon Night Food Market and Lipa Bay Night Market.
You will usually find lots of inexpensive food options, drinks, clothes, souvenirs and much more!
Sport activities
You won't believe how many activities there are in Koh Samui to choose from.
If you're staying for a longer time or just keeping your body in shape on a daily basis there are many many many gyms to choose from in Koh Samui. The best-rated are Classic Gym near Chaweng Lake and Ultra Bodies Gym in Lamai.
You can sign up for various weekly or annual fitness packages at Lamai Fitness Retreat or emerge in Muay Thai camp at Jackie Muay Thai.
If yoga is more your thing, then go to Yoga Essential Studio, or you can try air yoga at AirGym.Family, for pilates look at Pilates Reformer – Mindful Kinesics.
For other adventures, you can explore the jungle with quad bikes at Samui Quat Motor, try go-karting at Easy Kart, get yourself down the zipline at Tree Bridge Zipline, or have an adrenaline rush at Samui Paintball.
You can also spend some time playing mini golf at Minigolf International, or challenge your friend's golf skills at Golf Club Holidays.
There are quiet a few shooting ranges as well as archery Flying Arrow.
Since Koh Samui is an island, this gives great opportunities to rent a kayak or paddle board, to snorkel or sign up for diving courses, and for adrenaline lovers – windsurfing, jet skiing and sailing as well.
Also, there are quite a few places where you can take Thai cooking classes to learn the secrets of Thai cuisine.
Ang Thong Marine National Park
Ang Thong Marine National Park is an archipelago located 20 km northwest of Koh Samui, it consists of 42 different sizes and shapes islands, and is famous for its breathtaking beauty.
There is a main island, Ko Wua Talap, and it acts like a main headquarters, has a little restaurant, a stunning beach, an interesting cave and a Pha Jun Jaras viewpoint where you can see all (or at least the majority) of limestone islands covered in the lush greenery and peaking out from the azure blue water.
The whole scenery here is breathtaking, you will see many beautiful beaches, wild nature, an interesting underwater world and so much more!
To visit Ang Thong Marine National Park you will need to join a day tour by speedboat or ferry from Koh Samui or Koh Pha Ngan, or hire a boat yourself. It might cost something from 1,300 baht to 1,800 baht ( ~35 – 50 Eur / ~ 38 – 53 USD), but definitely check Klook for discounts.
Koh Madsum and Koh Taen
There are two little islands near Koh Samui that can be easily visited on a day trip. Located just a few kilometres from the island it gives a full day for relaxing on sandy beaches under the palm trees and snorkelling in the clear turquoise water.
To reach the islands you can hire a longtail boat yourself (I'm sure a lot of fishermen will be happy to take you there) or join a day tour which you can buy at any travel agency or book it online here.
Get a massage
I'm sure you already heard how good is Thai massage and that it has many relaxing and healing properties.
You will find many good spots on Koh Samui where you can get a wonderful Thai massage with as little as 200-300 baht (~5.50 – 8,00 Eur / ~5.90 – 8,90 USD).
Where to eat In Koh Samui
You would probably need to live in Koh Samui for a few years or more to try all the food in cafes and restaurants that are there. From authentic Thai food, to exotic Indian flavours and cheesy Italian pizzas, they have it all. It is a heaven for vegans, kids, and even for the most picky taste buds on the planet.
There are a lot of places to choose from, so here are a few of my recommendations where to in Koh Samui:
Thai Food
Thai food restaurants are plentiful on Koh Samui.
Of course, you will see that most places targeting tourist will have some international picks along with rice, noodle and curry dishes.
Thai food at these places are usually good, but to find an authentic thai food, you will have to walk past the places that have words like 'European' or 'pizza', having menus in Russian and Chinese.
The best places haven't got the English menus, although it is hard to find it these days. Look for pushcart on the street with a few tables on the side and a cook that doesn't speak good English. That means that they will serve the food using the old family recipes. And it will be amazing.
We found one little eatery, Thai Mama Home Cooking, that was attached to the owner's house and had 4 tables on the 'porch'. The food was one of the best that we tried in Thailand as we always bring that up in conversations. The menu is not big, but they have the whole section with 4-5 options for vegans/vegetarians too.
Another suggestion would be
Indian Food
Indian food is one of my favourites, I love the spiciness and how much flavour and texture it have. Funny enough, outside India the food is hit and miss in my experience, but I always try to find cute places that brings back the memories of my travels there.
Although I've noticed that Indian food prices in Thailand can sometimes be compared to European prices, we visited Babu's Indian Hot near Maenam beach with surprisingly low fares and super delicious food.
Another place worth shouting out to is Tandoori Palace at Chaweng. A perfect little place to have dinner with good prices and delicious authentic food.
Burgers & Pizza
There is an abundance of burgers and pizzas on Koh Samui.
Head to Hungry Wolf on the Chaweng main road for delicious comfort food. Hungry Wolf offers lots of different pizza and burger options and they have a whole vegan menu on site too.
Another great place is Homemade Burgers and Sandwiches in Maenam. They are serving delicious simple burgers at fairly cheap prices.
Vegan and Vegetarian Food
There are a lot of eateries that not only adjust but also have dedicated menus for vegan and vegetarian meals.
Jay Tamachad is a special place with a vegan buffet that offers not only veggies and rice, but plenty of meat substitutes to enrich the flavour and texture of the meals.
Pure Vegan Heaven is a small 100% vegan restaurant located on Lamai beach. It has a huge menu with smoothie bowls, burritos, salads and buggers made only with fresh ingredients.
Vikasa Life Cafe is also worth checking out. It sits on a cliff giving wonderful panoramic views and the food served here is more expensive but nutritious and super delicious.
Check out the HappyCow for the updated map of animal-friendly places to eat on Koh Samui.
Cafes
I am a coffee addict so searching for good coffee wherever I am is my main purpose of the day. There are a few lovely cafes that I found in Koh Samui that are worth attention:
Juice Queen is a cute cafe on the main road behind Chaweng that serves delicious coffee, freshly-pressed juices, light meals and acai bowls.
Another great find was Café K.O.B By The Sea, which sits on the beach, serves great coffee and has a big breakfast menu. Nice place to relax when you want to hide from the sun.
Also, I should mention SO CAFE' x SAMUI which has a big variety of speciality coffees and vegan options. Loved the simplicity and functionality of the design of this place too.
Local Markets
You have to visit the local markets if you want to get the freshest and cheapest fruits and vegetables in Koh Samui.
Some of the biggest markets are Lamai Market, Laem Din Market in Chaweng, Bophut Market and Maenam market.
Apart from the fresh produce you can find local food stalls that serves delicious Thai meals and snacks.
Where to stay In Koh Samui
Koh Samui is a pretty big island and there are areas that are more loved by tourists like Chaweng Beach, Lamai, Bophut, and Choeng Mon. However, there are so many other places that you can not only explore but also stay at, which is why it is a good idea to figure out where to stay in Koh Samui.
Chaweng Beach
Chaweng area is considered the epicentre of the island, it is a place all new visitors head to once they arrive here.
If you are looking for a peaceful and tranquil sunny getaway end up disappointed as this area is busy and everything including the beach, shops, bars and cafes are usually jam-packed with other holidaymakers.
Still, Chaweng is very popular amongst travellers because the beach is truly beautiful and it is a great spot to enjoy active sports, try a variety of foods, spend your afternoons in cute cafes, have a few cocktails and party your night away.
The good thing about the Chaweng area is that it has plenty of accommodation options to choose from. You will find low-cost hostels, midrange hotels and luxury resorts as well as family-friendly options in the area. But make sure to book it in advance, the best options go away very quickly.
Where to stay in Chaweng Beach: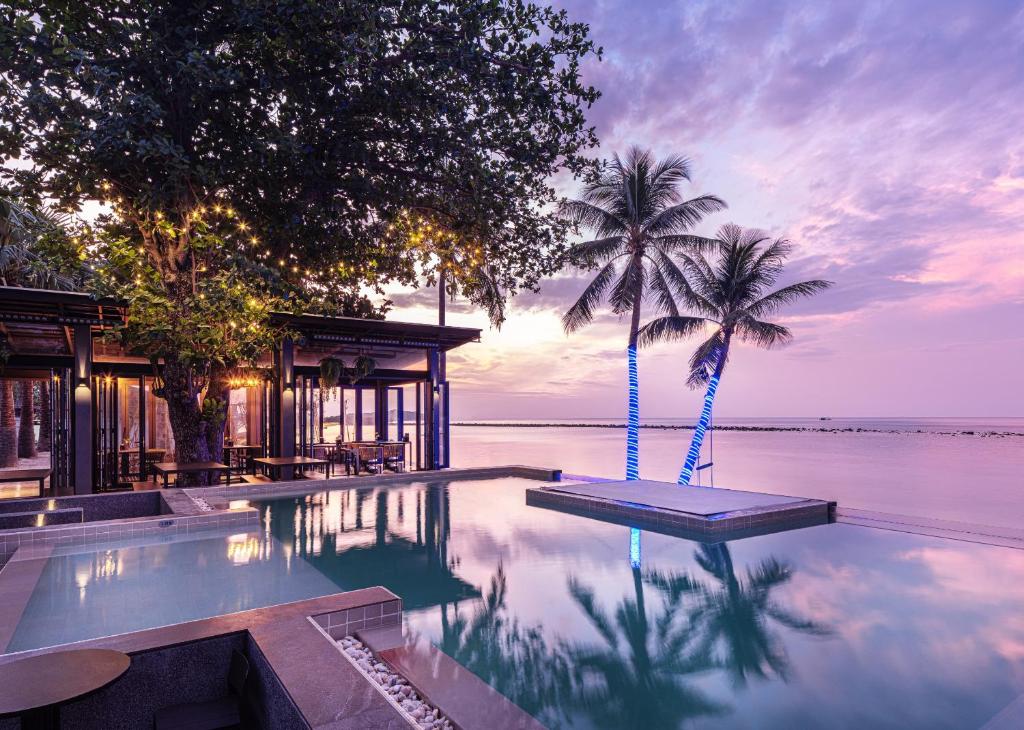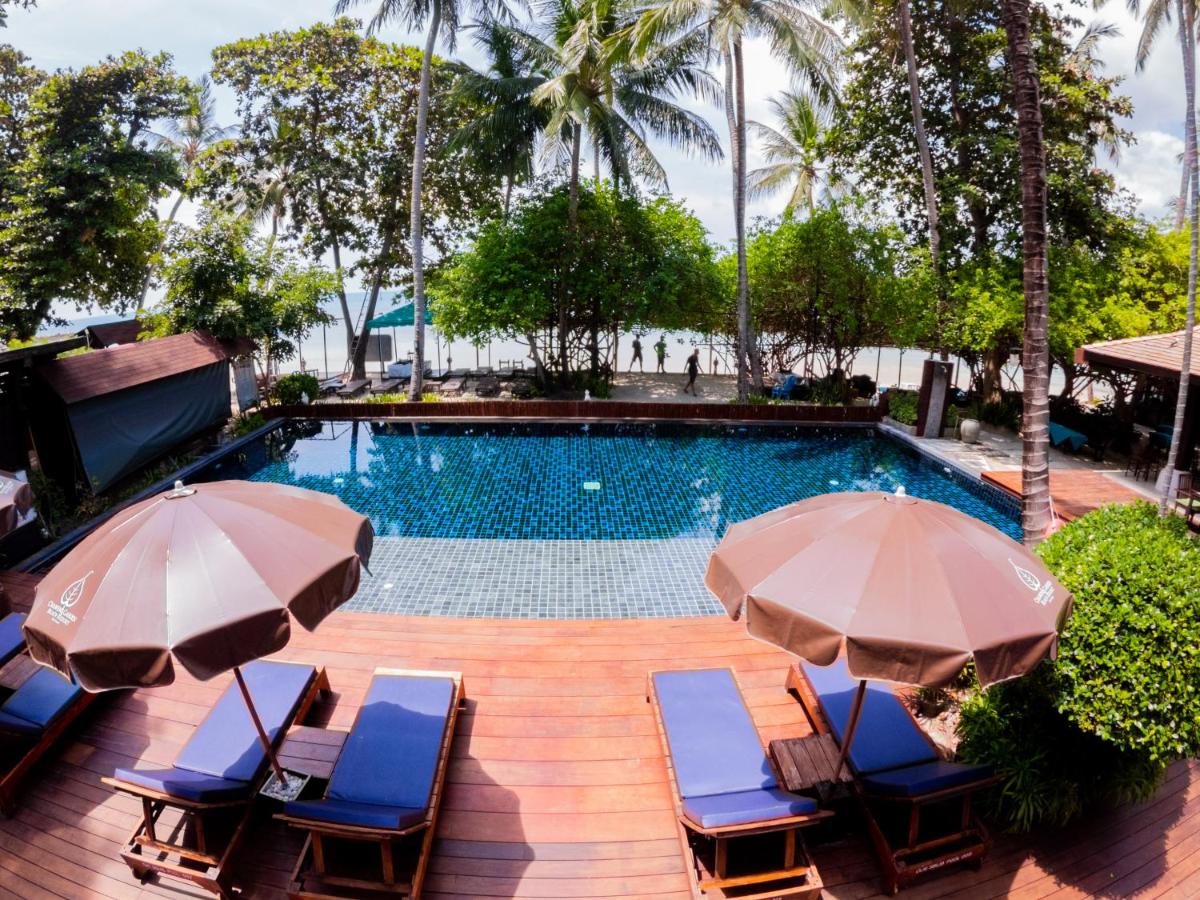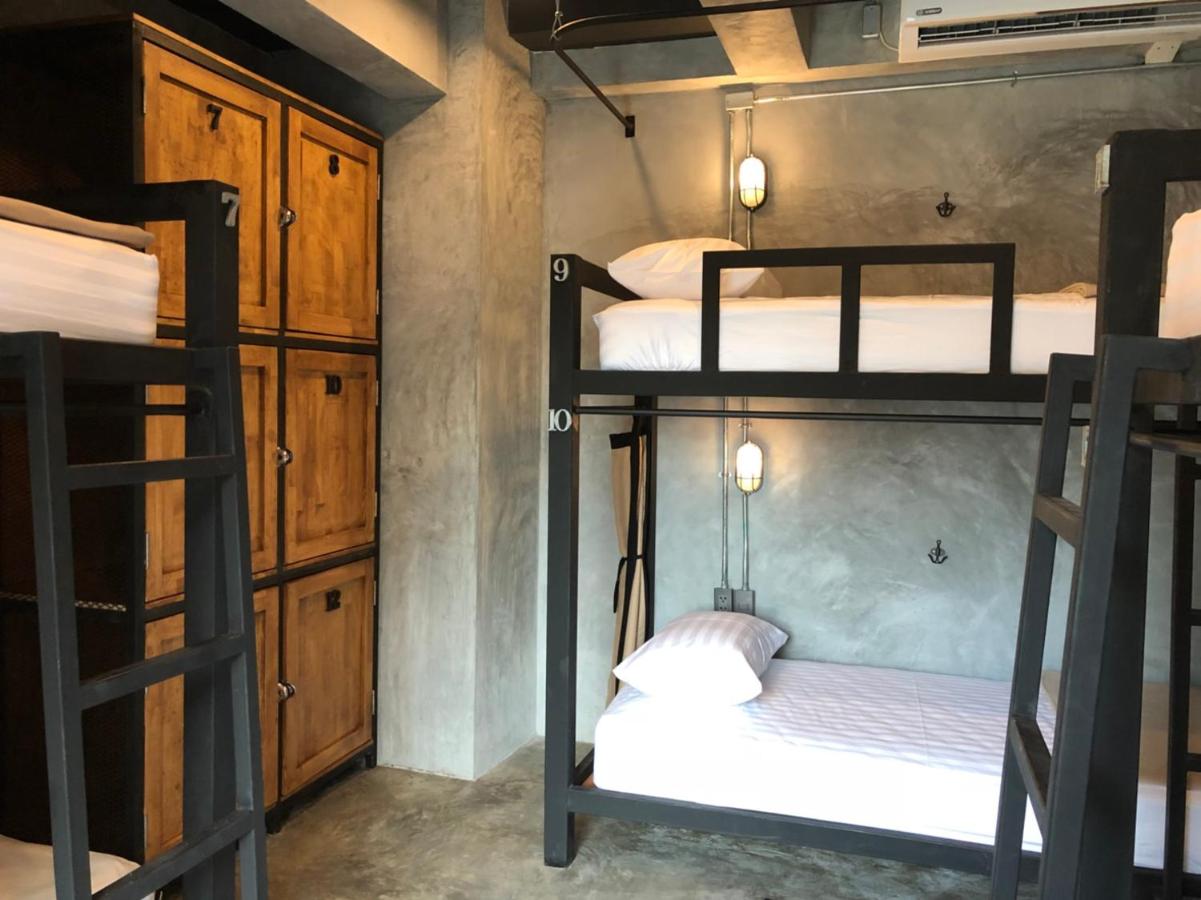 Lamai Beach
Lamai Beach is one of the most popular, just like Chaweng. However, the nightlife here is not as wild but it offers plenty of things to do in the area. It is considered a honeymooner and family-friendly destination.
Lamai beach is perfect for sunbathing and swimming. Many locals and travellers visit the beach, particularly the centre and the south is ideal for swimming with the waters being cool and clean.
You will have a chance to see wonderful sunrises here. Many travellers choose to wake up early so they can witness the beauty that nature brings in the morning.
There are plenty of resorts that line up the coast of Lamai Beach. Here even more lush hotels in the area are much more affordable than those you can find in Chaweng.
Lamai has a walking street market where you can enjoy fresh and various food and a few drinks during the night.
Where to stay in Lamai Beach: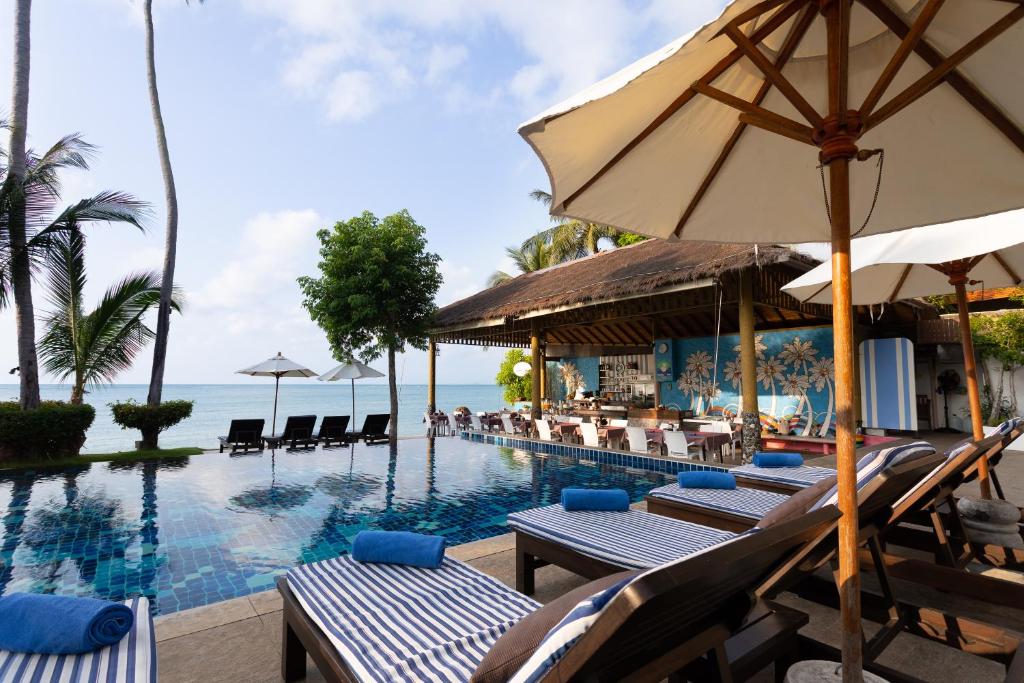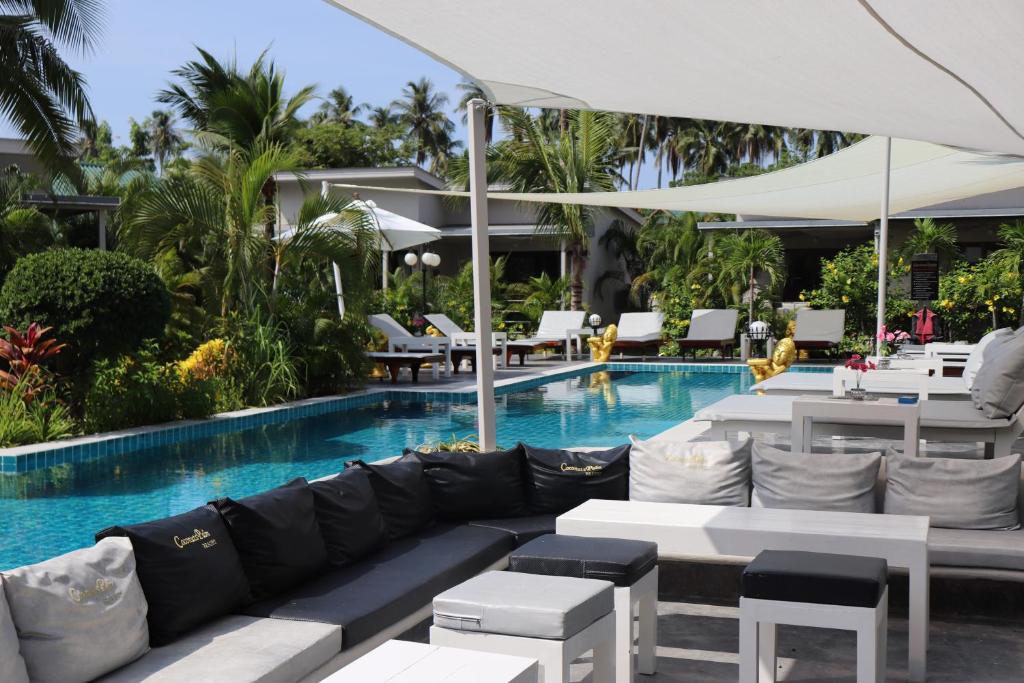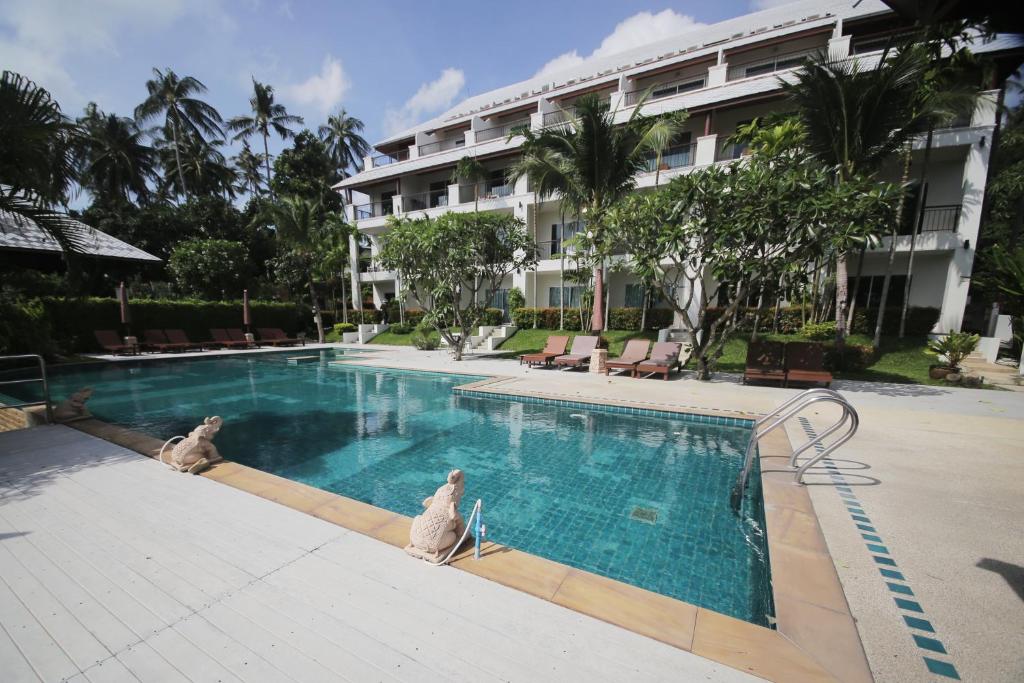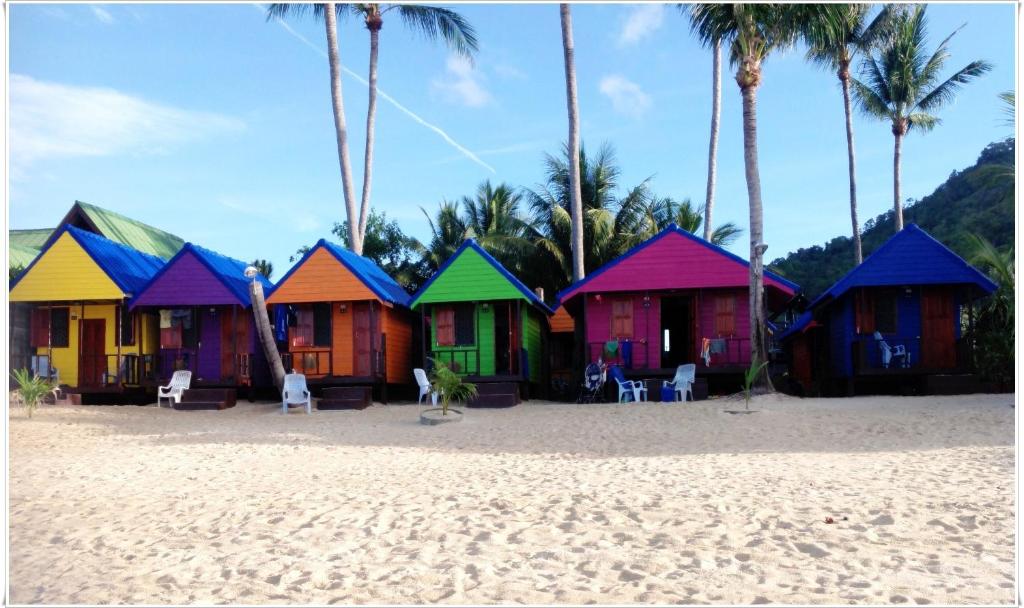 Maenam Beach
Maenam beach is one of the longest on the island but it is quite serene. Maenam literally means "Mother of Water" in English and is a favourite of those who want to spend a calm and quiet holiday away from the crowds, noise and parties like Chaweng.
There's actually not a lot going on in the area, but there are plenty of cafes and restaurants to have delicious meals and Maenam Morning Market which is perfect for breakfast and stocking up on fruits or veg.
There are many different accommodation options here, private villas, resorts, and hotels, and all of them are pretty affordable compared to other popular areas on the island.
Where to stay in Maenam Beach: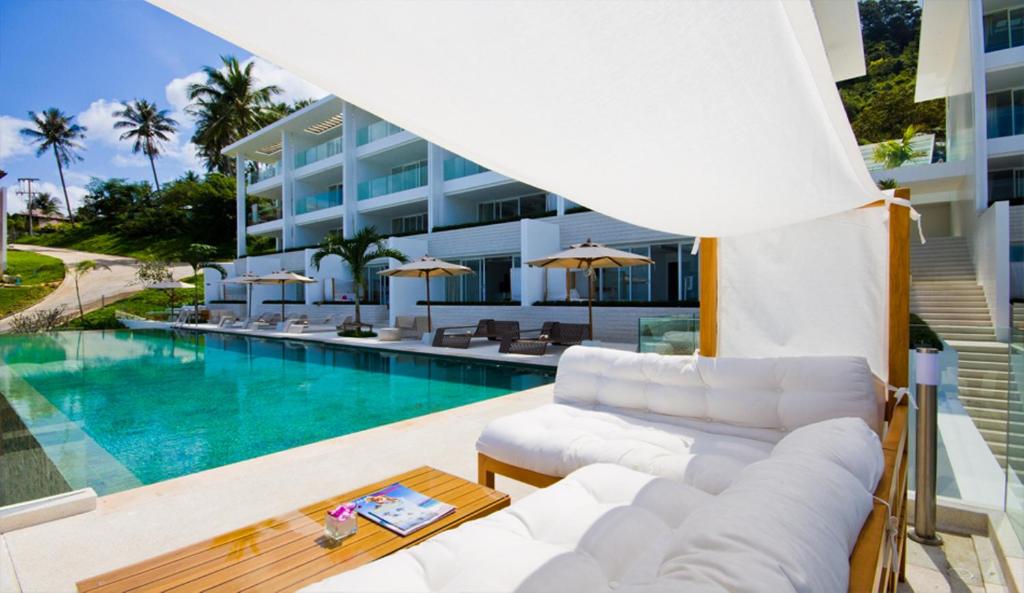 Bophut
Bophut is a charming place to stay for families and couples. It has a beautiful beach that provides visitors with unforgettable views of Ko Pha Ngan.
Bophut is located near Fisherman's Village, a historic place that has many art galleries, tourist-oriented shops, and many different cafes and restaurants with a sea view.
It is also located near the famous Big Buddha statue, standing over 39 feet tall, and the Wat Plai Laem temple complex, where you can spend your time during the holiday.
Where to stay in Bophut: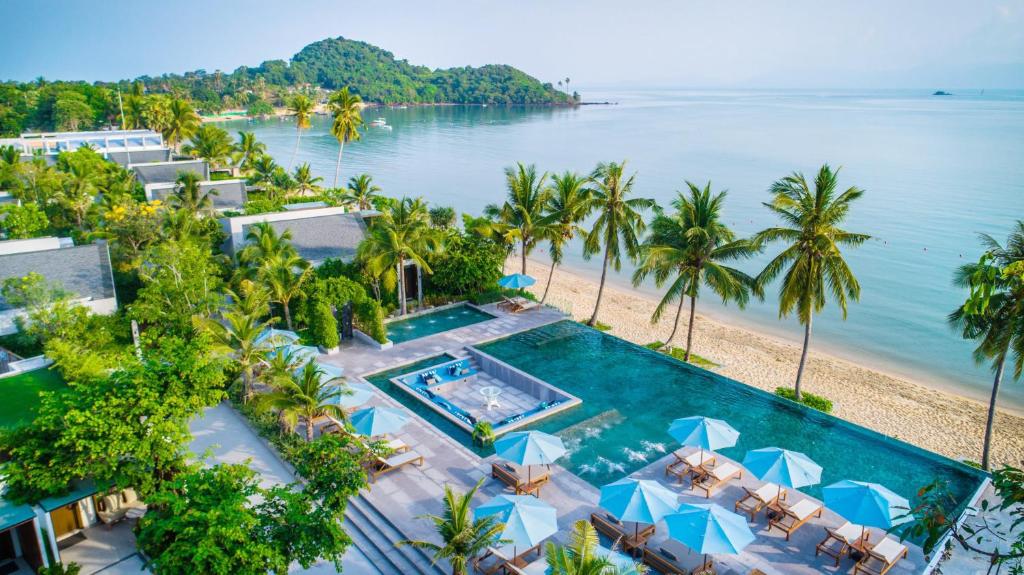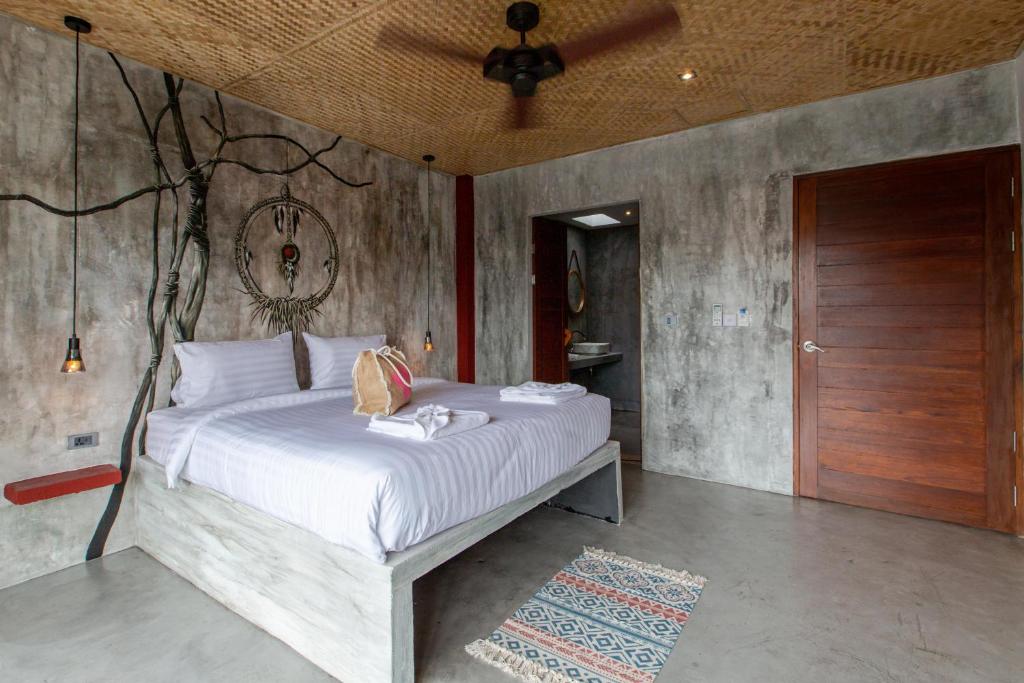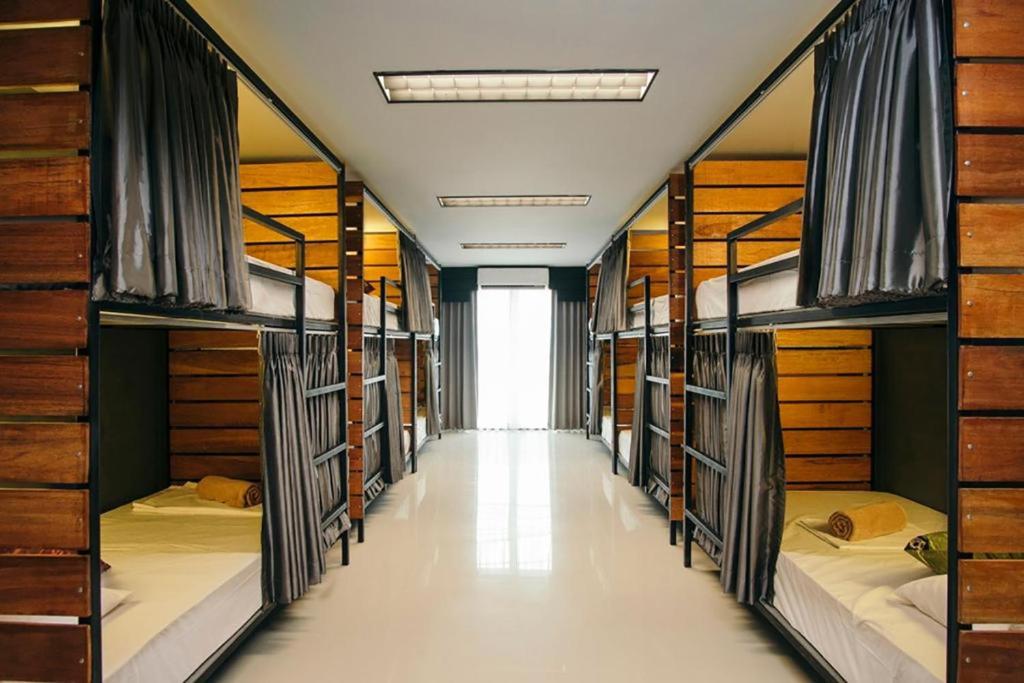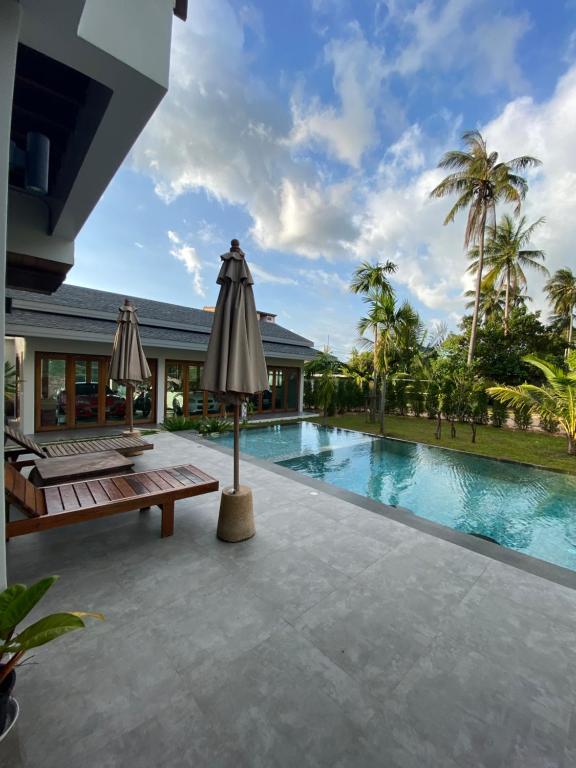 Choeng Mon
While in northeast Koh Samui, Choeng Mon is worth exploring. This place is exceptional with its series of bays that come with beaches that boast white sand.
Many people, especially couples, loves Choeng Mon because of its quietness. It is a special place with its numerous bays with white sands and clear waters.
Even though privacy and serenity are one of the main things you will notice here, it doesn't mean that there is nothing to do while you're here.
You can go to try delicious food, enjoy snorkelling, drink coconut water under the palm tree and enjoy your holiday to the fullest.
Another great thing about this place is that it is not far from the other popular sites. You can reach Chaweng in just 15 minutes and the Big Buddha is five minutes away.
Unfortunately, Choeng Mon does not have many low-priced accommodations and backpacking rooms, so you may not want to stay here if you are looking for an economical place.
Choeng Mon doesn't have many low-price or backpacker budget options, but you will find family-friendly accommodations, some midrange hotels, and numerous luxury hotels all over the area.
Where to stay in Choeng Mon: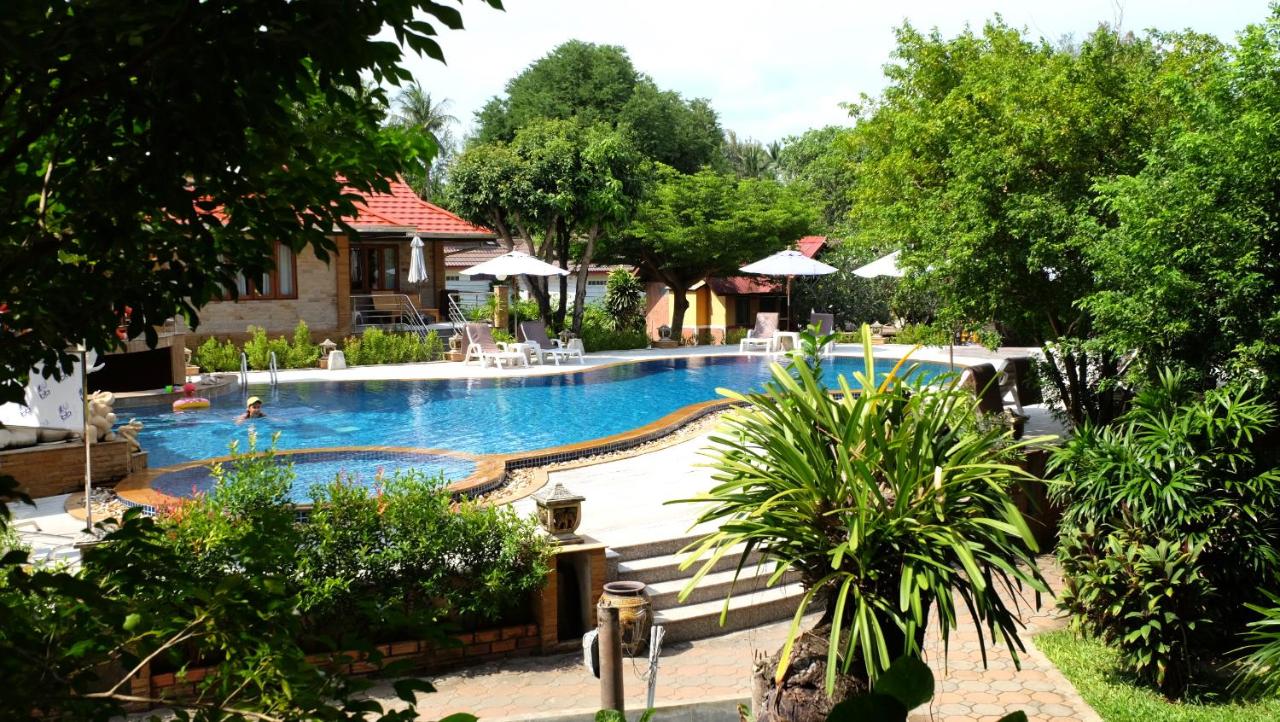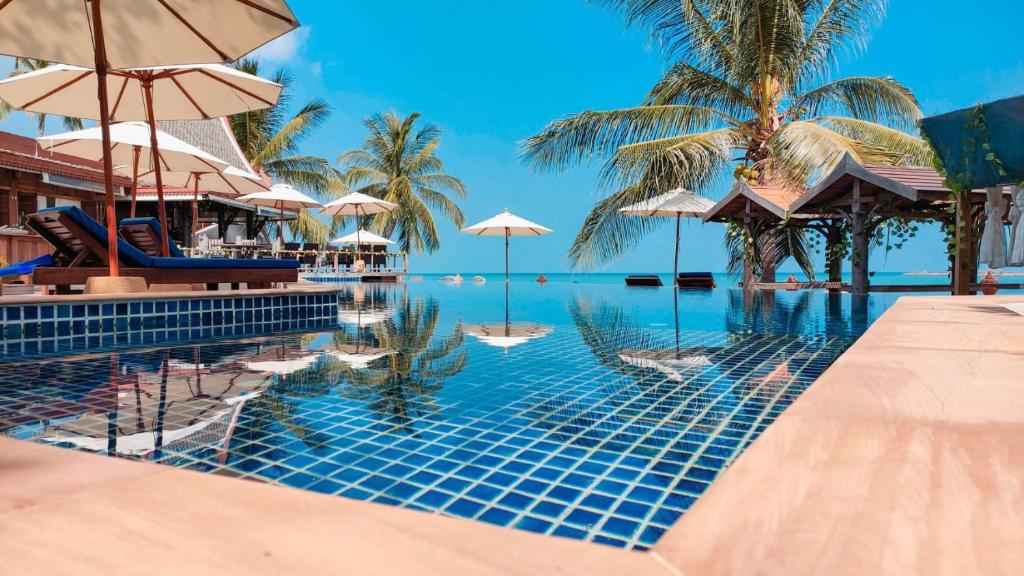 Bangrak Beach (Big Buddha Beach)
The Big Buddha Beach, also known as Bangrak Beach, benefits from its location because it is near the airport, as well as the top attraction Chaweng Beach, and of course the Big Buddha which is one of the top things to see here.
Picture a long wide beach with different bungalows, ranging from budget to midrange prices. It is the perfect spot for backpackers as well, hostels, beachfront resorts, boutique hotels and villas are pretty affordable in this area.
You will find many dive shops, supermarkets, bars, and other nightlife options here. Also, famous British pubs like Elephant and Castle are located in the area.
If you are planning to join Full Moon Party in Koh Pha Ngan then you catch a speedboat at Bangrak Pier.
Where to stay in Bangrak Beach: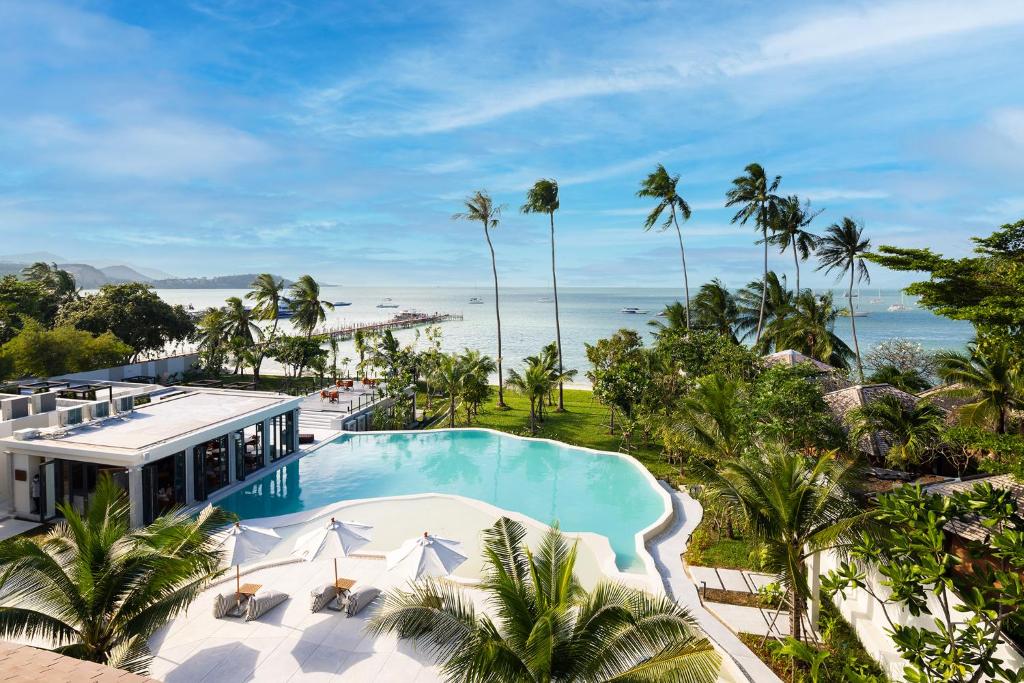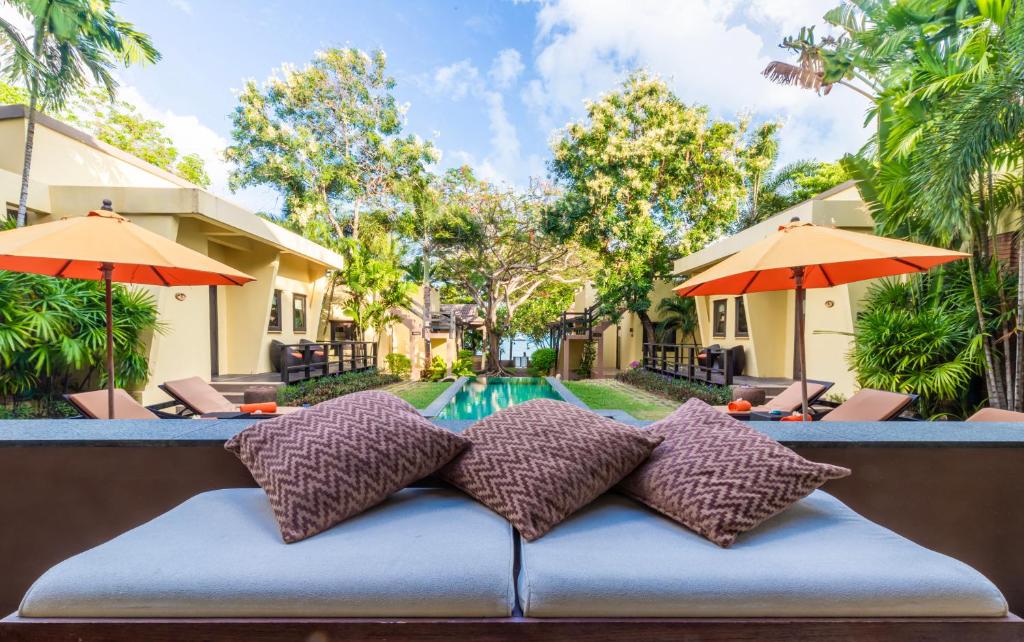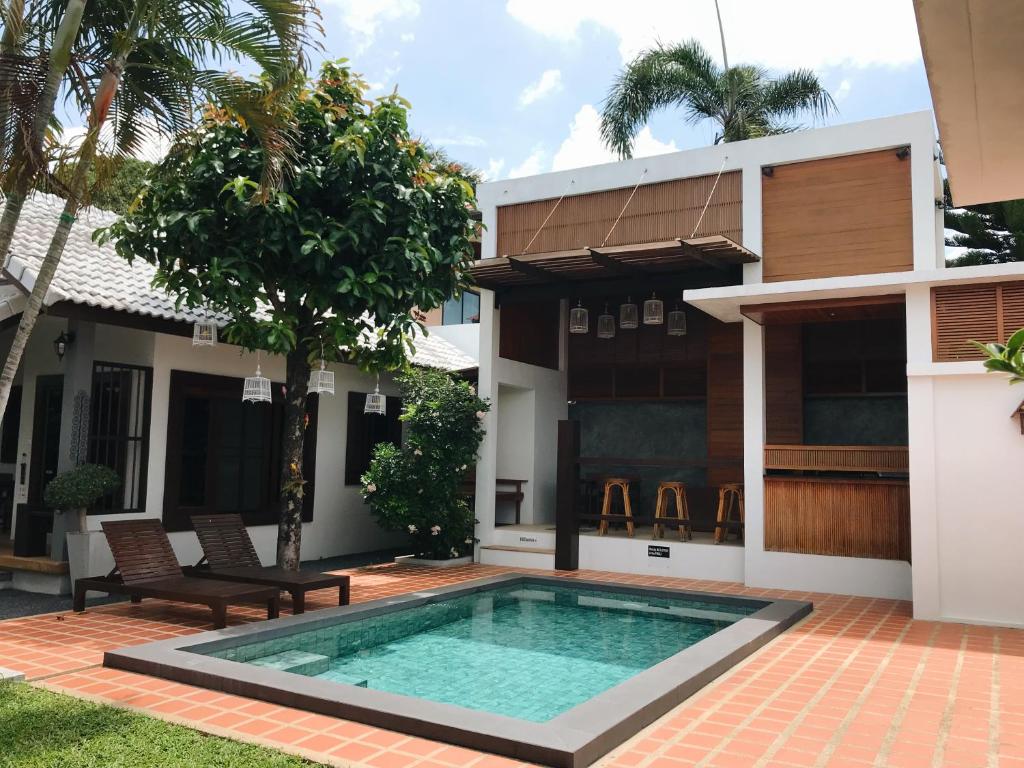 Taling Ngam
Taling Ngam gorgeous area and a hidden gem in Koh Samui that a lot of people tend to overlook.
Taling Ngam Beach itself is lovely, the whole picture of the narrow sandy beach with big rocks rising from the shiny azure water and lush greenery is breathtaking, and the view of Ang Thong Marine National Park makes this place one of the most scenic areas in Koh Samui.
Taling Ngam area is located in the southwestern part of the island, a little detour from the Ring Road makes it pretty remote than the other areas. To reach Nathon, the main town, and the pier takes about 25 minutes while reaching Chaweng will take around 45 minutes.
Taling Ngam area is perfect for those who aim to relax during their time on the island, soak up all the beautiful views of nature after a long day of exploring and enjoy a dreamy holiday destination.
Taling Ngam has plenty of accommodation options matter what your budget is, you will find a room to stay and sleep comfortably.
Where to stay in Taling Ngam: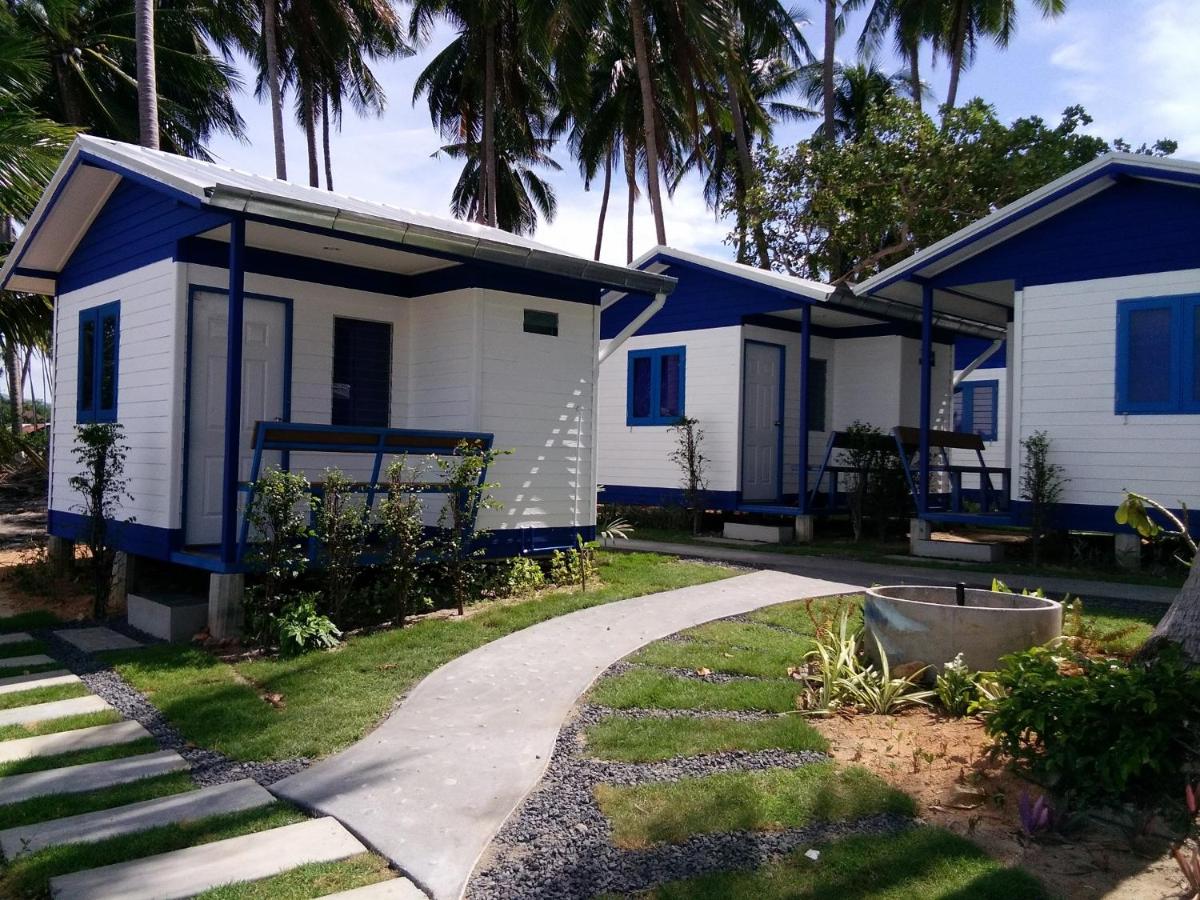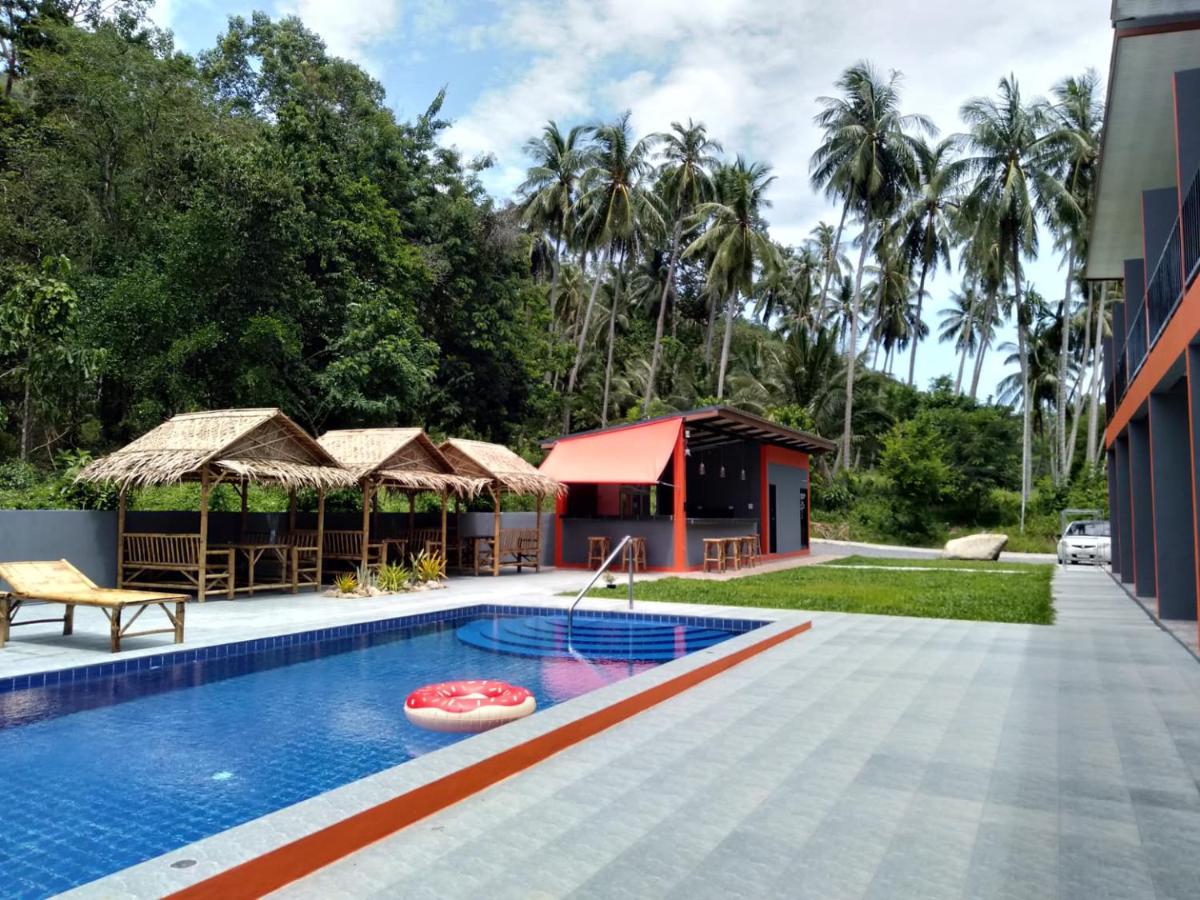 Lipa Noi
Lipa Noi is one of the best places for totally quite and peaceful holiday.
Lipa Noi is located in the west of Koh Samui and hosts not only the pier that gives easy access and comfort to reach other destinations but also a beautiful golden sand beach and breathtaking sunsets.
The coastline here is probably the only one that doesn't have hidden coral reefs and together with pretty shallow water is a wonderful place to spend your holiday with kids.
The choice of accommodation here is a bit limited, but you will find some beautiful resorts and villas worth attention too.
Where to stay in Lipa Noi: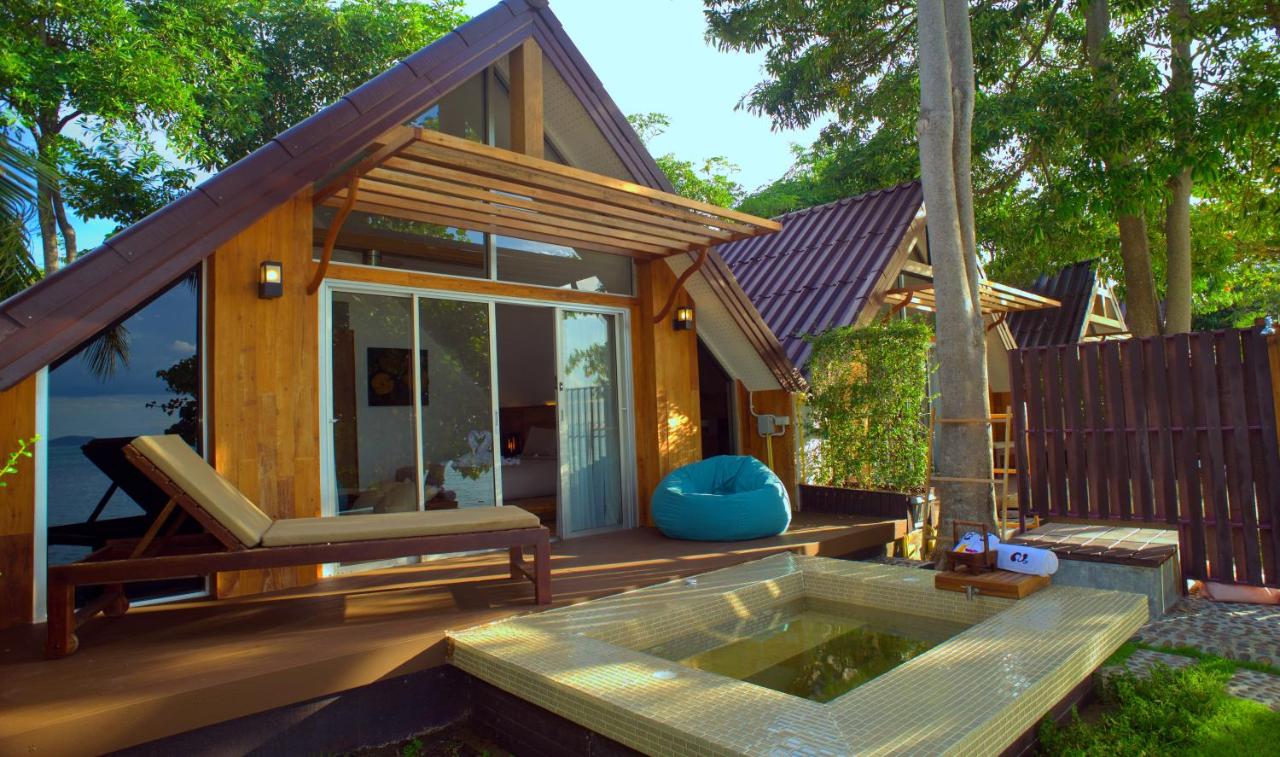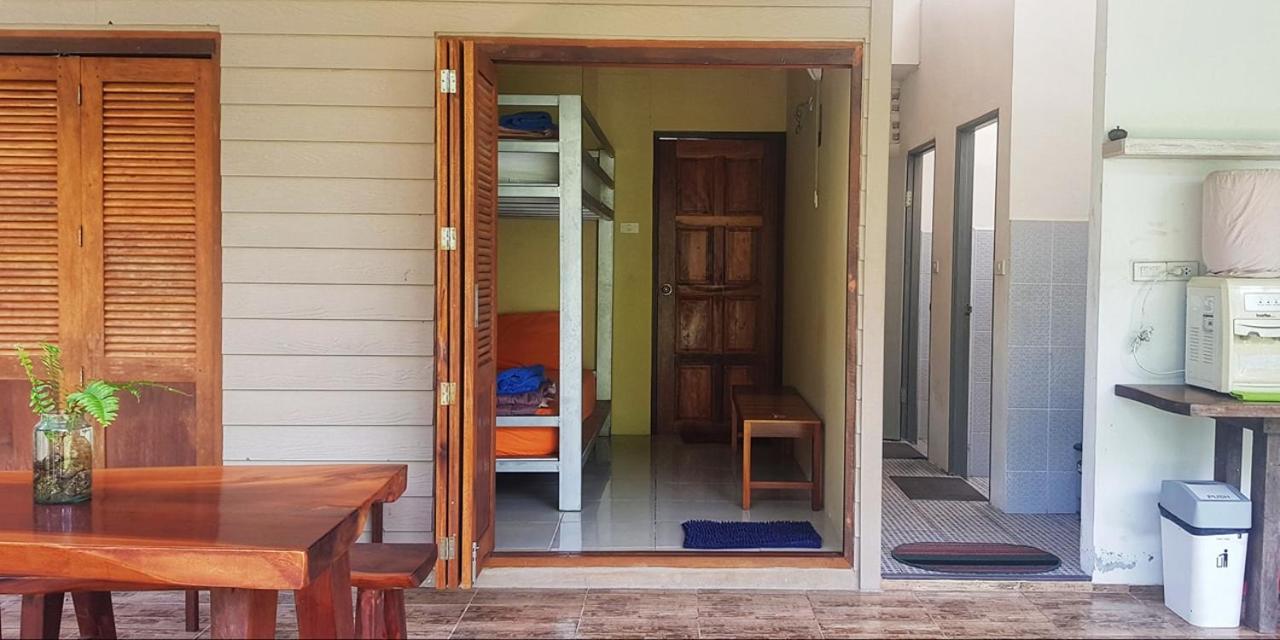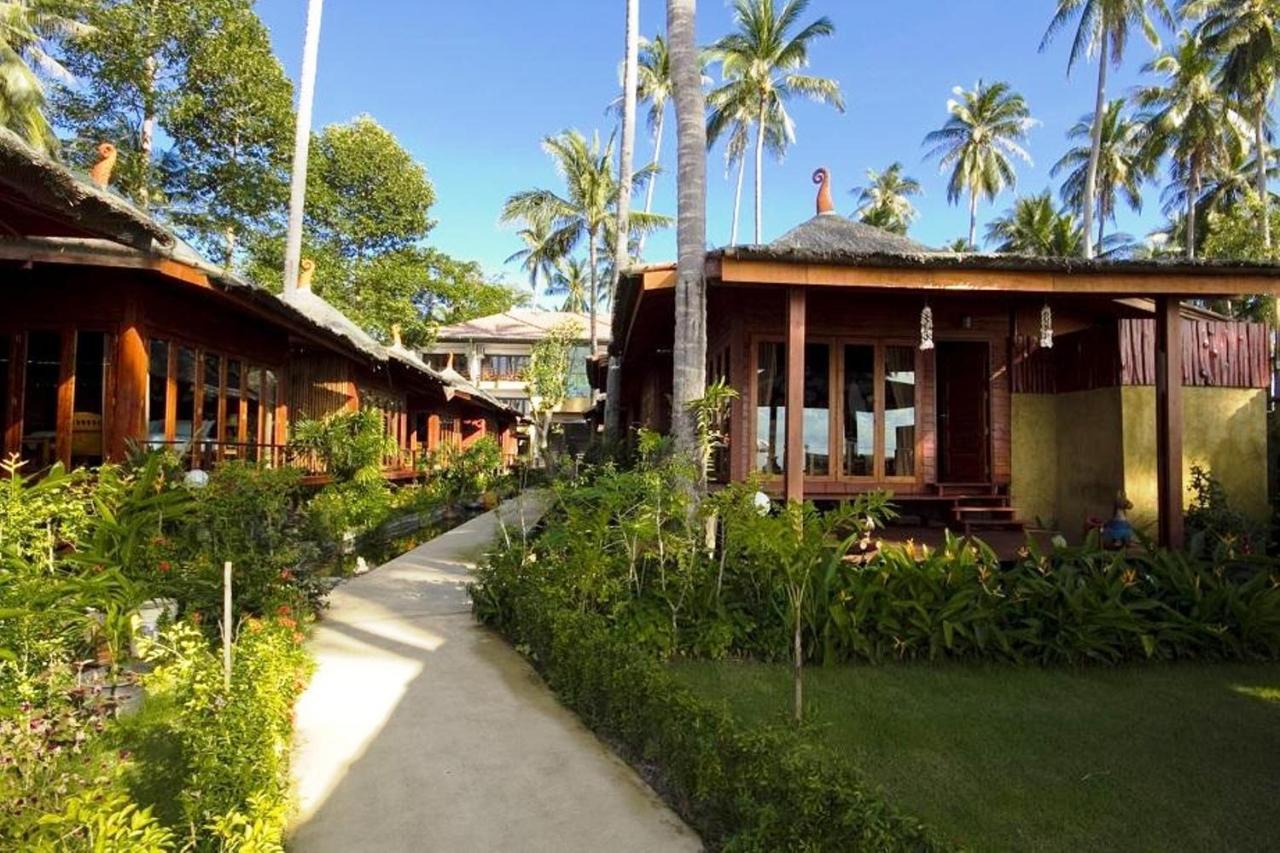 How to get around Koh Samui
Unfortunately, Koh Samui didn't prioritise public transport on the island like other places in Thailand, but there are a few ways you travel around it.
Renting your own vehicle
It is possible to rent your own vehicle, car or scooter, during your stay on Koh Samui and it would give you more freedom and a chance to explore the island independently.
Renting prices vary depending on the model and the place you rent it from. We rented a simple Honda scooter for a few days and paid 150 baht (~4 Eur / ~4,3 Usd) per day. If you rent for a longer period, like a month or more, expect to have a bit of a better price, something about 125 baht per day ( ~3,5 Eur/~3,9 Usd).
When renting a scooter don't forget to take pictures of the vehicle. That way you will be able to prove that it was already damaged when you got it.
Also, Koh Samui is for experienced drivers, it is not the best island to learn to drive a scooter because it's pretty hilly in some parts and traffic might be overwhelming at times (especially on the main road). Having an international driving license would be ideal, you never know when police will stop you and travel insurance can refuse to cover the damage and health care in case of an accident. And don't forget to wear a helmet, even if you're the only one doing that.
Songthaew's in Koh Samui
Another great option to travel around Koh Samui is by catching a songthaew.
Songthaews are Koh Samui's version of public transport, it is a converted pick-up truck with two benches in the back that can fit around 8-10 people, with the occasional person choosing to hang off the back bumper.
Although Songthaew's route and schedule are not entirely clear rather depend on drivers' preferences and who's paying to go where they usually circle the ring road and other large secondary roads. The more popular and bigger your destination, the more chance the driver will take you there. But if not, you can always try the next one.
If you want to go somewhere, stand on a roadside (the busier, the better) flag it down with your hand, tell the destination to the driver, agree on the price, and hop in the back. When you want to get off, ring the bell inside, and once he pulled over to the side pay the driver the correct amount (don't expect a change if not).
Taxi's and online bookings
And last, as everywhere else in Thailand, there are quite a few taxis that you can hire if you need someone to take you to places or drive you around.
Online booking is a bit complicated in Samui. Uber does not exist here. Grab App is working in Koh Samui, but there are not a lot of drivers there so it's pretty unreliable. The better Grabb App alternative was Navigo, but it is not available anymore. But I heard a few positive comments about inDriver so it's worth trying that out.
If you catch a taxi the old-fashioned way – finding one on the street and asking to take you somewhere – then don't forget to bargain a little and set the rate before getting inside to avoid overpaying and misunderstandings.
Tours
Joining a group or a private tour is a great option to explore Koh Samui. You can book a group tour that will take you to the most popular spots on the island, or book a private tour that can be adjusted to your wants and needs.
I think this is a great option for those who have a very limited time on the island and want to see the best of it and be stress-free.
You can book tours through your hotel, any travel agency in the area or using trusted websites like Klook and GetYourGuide.
How to get to Koh Samui
Koh Samui is an island located in the Gulf of Thailand, in the Southeast part of the country. Koh Samui is the second biggest island in Thailand.
No matter where are you coming from or which road you take, you will have to cross the gulf of Thailand by taking a ferry on the last leg of your trip. There is also an airport which is described as 'the most beautiful airport in the world'.
Koh Samui is a popular destination, connections between different parts of the country are well-developed and accommodate different comfort needs and budgets.
By Air
It is pretty easy to reach Koh Samui, there is an airport on the island that operates both international and domestic flights.
There are direct flights from several locations in Thailand, including Bangkok, Chiang Mai, Phuket and Krabi, the only airline that operates the flights is Bangkok Airways as this airport is privately owned by them. International direct flights from locations like Singapore, Hong Kong, Malaysia and China.
Koh Samui airport is on the northwestern part of the island, pretty close to the popular tourist areas, it takes only about 15 minutes to reach Chewang and 30 minutes to get to Lamai.
Taking a flight is a great option if you want to save travel time or prefer a quick and comfortable journey. Check the tickets on Skyscanner, Kiwi and even Google flights and book in advance to get the best prices.
Surat Thani to Koh Samui
Surat Thani is a well-known travel gateway to Koh Samui. It's a popular route because many bus or train journeys end here or people fly into Surat Thani Airport from all over Thailand, so there are a variety of tour and ferry companies that offer trips from Surat Thani to Koh Samui.
By Ferry
There are many choices for getting to Koh Samui from Surat Thani.
There is Tapee Pier which is located around 30 minutes from Surat Thani International Airport and 10 minutes from the city. Tapee Pier operates journeys only by Lomprayah high-speed catamarans.
Lomprayah is a great company that offers various trips with high-speed catamarans all over south Thailand. Taking a journey with them will be smooth, comfortable, and quick but on the pricey side compared to the others on the market.
Donsak Pier is the large pier that operates the majority of speedboats and ferries between the mainland and the islands of Koh Samui, Ko Pha Ngan and Koh Tao. It is located 60 kilometres (37.5 miles) west of Surat Thani, and it takes around 90 minute's drive.
Another option is Chumphon pier which is located 252.7 km north of Donsak Pier. At the moment, just one company operates daily transfers from this port -Lomprayah.
Travellers who want to visit Koh Tao normally choose Chumphon pier which is closer to it, leaving Koh Samui the furthest island to reach. There are two times a day the boat leaves for Samui, 7:oo am and 1:00 pm, the journey takes 4.5 hours and costs 1,200 baht (~33 Eur / ~35,50 Usd).
Piers of Koh Samui
The Nathon Pier is situated on the west coast of Samui and is the main ferry pier that mainly serves the Seatran and Lomprayah ferry companies.
Seatran ferry departs for Donsak every hour between 5 am and 6 pm. The journey takes around 1,5 hours and it cost 190 baht (~5,20 Eur / ~5,60 Usd) for passengers. Tickets can be booked on their official website or 12goasia.
Journey with Lomprayah from Nathon Pier in Koh Samui to Donsak will take about 45 minutes and cost 450 baht (~12,40 Eur / ~13.30 Usd). Check their website here or 12goasia.
Lipa Noi Pier is just north of Taling Ngam, on the west coast of Koh Samui. It's also known as Raja Ferry Pier, which is the name of the company that operates ferries from this pier. Ferries depart to Donsak Pier on the mainland every hour between 5 am and 6 pm, you can find tickets online on their official website or search on 12goasia. Tickets are a tiny bit cheaper on the official website – 190 baht (~5,20 Eur / ~5,60 Usd) and the journey takes around 1,5 hours long.
The location of Lipa Noi Pier is slightly off the Ring Road, which makes it less easy to reach and taxis from and to this pier are usually more expensive than other piers in Koh Samui.
Maenam Pier is located northern part of Koh Samui. It is also known as Pralarn Pier and Lomprayah Ferry Pier (the company that operates ferries from this pier).
Lomprayah serves journeys to Koh Phangan, Koh Tao, and Chumphon. There are 2 ferries for each of these destinations scheduled for 8 am and 12.30/1.00 pm. Journeys take from 30 minutes to 3 hours (the distance is different between each destination) and it cost 350 baht (~9,60 Eur / ~10,30 Usd) to Koh Phangan, 700 baht (~19 Eur/ ~20,70 Usd) to Koh Tao and 1,200 baht (~33 Eur / ~35,50 Usd) to Chumphon. Check the timetable and prices here.
Bangrak Pier is also known as Big Buddha Pier, as it's just south of a small island, Koh Fan, that accommodates Wat Phra Yai (Big Buddha Temple). Bangrak Pier has the advantage of being the closest port to Chaweng Beach and Koh Samui International Airport.
At the moment you can get only to Koh Pha Ngan with the Seatran ferry. It goes twice a day 9:30 am and 14:30 pm, journey takes 45 minutes and costs 350 baht (~9,60 Eur / ~10,30 Usd). Check the tickets here.
By Bus and Train
Although the last leg of the journey will always be the ferry, there are a few ways to reach the piers from any part of the country.
Taking an overnight train from Bangkok is a pretty comfortable and convenient journey, you will save yourself a night at the hotel and have a chance to sleep in a horizontal position (not like on the bus) during the night.
The journey takes about 11-12 hours to Surat Thani Train Station and cost from 1,200 to 1,600 baht (~33,32 – 44,45 Eur / ~35,60 – 47,46 USD). Keep in mind that you will need to reach Donsak Pier which adds another few hours and a few hundred baht on a bus or taxi journey.
You can travel all the way to Donsak Pier by overnight bus. The journey to Surat Thani Bus Terminal takes about 11 hours and costs from 600 to 1,000 baht (~16,50 – 27,55 Eur/ ~17,70 – 29,50 Usd). You will need to hop on one of the minivans that go to the Donsak pier, which will add another 1-2 hours and an extra 150-300 baht (~4 – 8,20 Eur/ ~4,40 – 8,80 Usd) to the journey.
Another note – outside of the Surat Thani Train Station and Surat Thani Bus Station you will find vendors selling transfer and ferry tickets. The prices vary but this is a huge help with organising the trip.
I personally love that here in Thailand you can buy combined tickets for as many buses, minivans and ferries as you need to reach the destination. All the transfers are taken care of and all you have to do is show up and enjoy the journey.
12goasia offers great routes and good prices with trusted providers. Depends on the time of the year you're travelling but the whole trip in February (peak season) from Bangkok to Koh Samui can cost about 1,500 baht (~41 Eur / ~44 Usd) including bus and ferry tickets.
Of course, hiccups happen all the time, sometimes waiting time between buses is long, most of the time you don't know what is happening, how long you stopped and when you leave, but they are quick to respond to unplanned situations and you will definitely reach your destination.
If you're on a budget or just don't like spending too much when there are cheaper options then check all the ways to reach Koh Samui that are mentioned above.
There is no correct way to travel or no one rule that applies, sometimes you will save on buying a combination ticket, and sometimes it is better to buy everything separately.
When to visit Koh Samui
When is the best time to visit Koh Samui?
Well, Koh Samui has a tropical monsoon climate, it is an all-year-round holiday destination, with high temperatures and a significant amount of rain. There are three main seasons that weather can be described in Koh Samui: dry season, hot season and rainy season.
Dry season (December to March)
The dry season in Koh Samui is amazing. Temperature is always around 30°C, which is considered a cooler temperature, with a small amount of rain and light winds. February is usually the driest month of the year.
For many visitors, the dry season is thought of as the best time to come and it is a peak season for businesses. Expect many other travellers in the area, busy bars, and crowded beaches.
If you're thinking of coming here from mid-December to mid-March make sure to book accommodation in advance to get the best prices. Even though there are plenty of hotels and resorts to choose from, all great deals and many options disappear very quickly during this time.
Hot season (April to August)
The hot season in Koh Samui is called that way as the high temperature and humidity sometimes creates unbearable heat wave during this period.
April is considered to be the hottest month throughout Thailand and it is not an exception in Koh Samui.
Travelling during the hot season will reward you with a lot of sunshine, but you will notice an increase in rain moving towards September.
Rainy season (September to November)
The rainy season is also considered a low season in Thailand. Between September and November, Koh Samui is affected by the northeast monsoon and there's a high chance of rainfall and thunderstorms, October being the rainiest of them all. Sea conditions can be rough during this time too.
People who travel to Koh Samui during the rainy season are rewarded by low hotel rates, quiet streets and empty beaches. It is not a bad time to travel because you can still enjoy warm weather and the best-value offers if you don't mind relaxing in your resort while it rains.
But if you want to travel during the rainy season, for a higher chance of sunshine and better sea conditions, check out Phuket and Khao Lak on the Andaman coast, they have drier and sunnier weather in November.
Travel tips for visiting Koh Samui
FAMILY-FRIENDLY. Koh Samui is one of the islands that are super family-friendly. Yes, there is a whole wild party scene in Chaweng, but outside of it, there are plenty of things to do with your family and kids.
BEACHWEAR BELONGS ON THE BEACH. Although Koh Samui locals are used to tourists, it's considered inappropriate to wear beachwear anywhere else than the beach. Be respectful.
SAFETY. Koh Samui is a pretty safe island for female solo travellers and families even during the night. Of course, you always need to take general precautions, but I never felt threatened or unsafe (except for the monkeys, I am scared of them).
CASH OR CARD? There are a few places that accept cards, like upscale bars and restaurants, but most of the places are still running on cash. Especially the little clothing or souvenir shops or street food stalls.
ATM'S. There are plenty of ATMs around the island. If in doubt – look for 7-Eleven, there's usually one next to it.
HYGIENE. The main thing that applies to Koh Samui, and all of Thailand, is not to drink tap water. Bottled water is cheap and easily accessible in every corner shop or cafe. I think the food hygiene is good, I ate plenty of street food there and had no problems.
RELIGION. The main religion on Ko Samui is Buddhism, although there still exists a small Muslim population on the island too.
LANGUAGE. A lot of local people speak English, or at least they try. I am sure that with the help of Google translate, you will be fine.
CELL SERVICE. I had a perfect connection everywhere I've been on Koh Samui island. Just while cruising on the sea around other islands the cell service was a bit harder to get.
ELECTRICITY. I never had any problems with electricity, although I think you might experience random power outages during the rainy season. The electrical outlets in Koh Samui feature two round prongs, fitting most European and Asian appliances as well as the flat prongs of the USA and Japan. The standard voltage is 220 volts.
WIFI. Many hotels, cafes and restaurants have WiFi and they are sharing the password with their customers. And it's usually super fast. If you need to stay connected while on the road, then consider buying a local Sim card with mobile data. You can get unlimited plans for a whole month for as cheap as 150 baht (~4 Eur / ~4,30 Usd).
HOSPITALS. There are quite a few hospitals, clinics and dentists on the island, so in case of emergency, help is always available. But be sure to have travel insurance to help you with medical expenses. I always use Safety Wing when I'm travelling, it is very affordable and their customer support is super kind, helpful and quick to respond.
---
Thank you very much for reading the whole guide of things to do in Koh Samui.
If you've already visited Koh Samui, it would be amazing to hear travel tips and recommendations from you in the comments.
If you haven't been there yet, please don't hesitate to ask us if you have any questions. We are here to help!
Happy Travels!
---
---
RELATED ARTICLES